---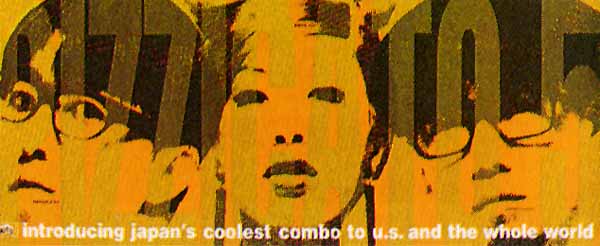 Pizzicato Five
compiled by Nicholas D. Kent
email: ndkent "at" optonline.net
Last updated 99.9.9
(*) means I don't own this album
(@) means I've heard this album but don't own a copy

Paul Rymer's additions are prefaced by PR:
I've separated the Japanese from the international releases because of the confusing overlap.
thanks: Rodney Greenblat, Ron Kane, David McKenzie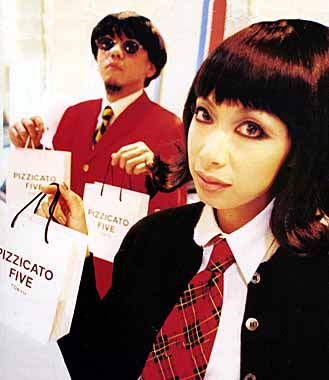 Several fans have indirectly brought up the the question of "what is this kind of music called". While the term J-Pop is beginning to be used commonly outside Japan. The term is similar to saying something very broad like British pop music. There is nothing wrong with it, but going deeper one discovers, like many 1980s fans of Technopop discover that the vast majority of Japanese music (or for the vast majority of pop music for that matter) has little resemblence to the cool sounds one has discovered.
If you are one to categorize music, Pizzicato Five falls into a subgenre called Shibuya-kei (Shibuya style or Shibuya form). It is named after the part of town where a lot of the music offices, record shops are.
Some other acts that probably fall into this style are Cornelius, Towa Tei, Buffalo Daughter, Takako Minekawa, Nav Katze, Kahimi Karie, Fantastic Plastic Machine, stuff on the Sushi compilations. All of the above have had solo releases in the U.S. (Nav Katze only has a remix album out of Beligum). Interestingly the U.K. act Gentle People also falls into this style by association. One could argue the Doopees and Sunahara would also fall in this category.
Pizzicato Five pioneered the use of odd CD packaging with little gifts. This material usually is dropped when more CDs are manufactured, making the first "special packaging" versions more collectable. Sometimes though all the full price CDs will continue to include it. (for some bands, releases will appear some years later in very plain packaging but at a lower price (not really the case for P5 though.) The remastered versions do have new packaging. If they are cheaper, it's not by much) This is not unique to P5, many Japanese acts do it. I've not been able to catalog the differences for P5.
---
Japan releases:
---
In the Audrey Hepburn Complex
1985 12" EP Non Satandrd 12NS-1003, TEJN-16333 (90s vinyl reissue) cd single: TECN-22333
Their first record. They were PIZZICATO V back then. Hosono produced. I coaxed WNYC's David Garland into playing their cover of "Fellin' Groovy" over the airwaves (from my 12") back in 1988 when I got to be "John Zorn for a day" on FM radio. Zorn would drop by the show fairly regularly and play eccentric Japanese pop followed by New York hardcore. He did beat me by playing P5 on the radio earlier than I did.
I saw reissues of this and the next 12" on vinyl in '96. I didn't catch the numbers.
The group: mamiko Sasaki, k-taro Takanami, ryo Kamoya, yasuharu Konishi. A smooth synth and drum machine sound.
The Audrey Hepburn Complex (extended Stanley Donen Mix)
The 59th St Bridge Song- Feelin' Groovy (club mix-night owl)
Let's Go Away For Awhile (club mix-cafe bizarre)
---
Pizzicato Five in Action
Action Painting (Experctor Sound) / Boy Meets Girl (Hotenanie In Modern)
Jan 1986 Non-Standard 12" 12NS-1007, TEJN-16334 (1995 reissue vinyl) cd single TECN-22334
Hosono produced. Has that "Non-Standard" sound. Both this and the above are available as a 2 cd single set called non standard years, pizzicato five '85-'86
---
(*)Pizzicatomania! (30CH-253, TECN-18042, TECN-15256 Jul 1987) seems to be some content from the above singles and some new stuff
(*)Couples (32DH-637 Apr 1987)
(*)Bellissima! (32DH-5126 Sep 1988)
---
On Her Majesty's Request
(@)32DH-5279 Jul 1989
I've listend to this one. Nearly all the vocals are male. Lots of orchestra. There is a piece that has a recreation of Kraftwerk's beats on The Telephone Call.
---
Soft Landing on the Moon
1990 CSCL-1149
This period didn't have a female singing member. None the less this is an interesting and elaborate 22 track pop album
---
(*)Lover's Rock (CSDL-3131 Jun 1990) single
---
---These last 4 albums are now remastered by sony. It is said that they have some samples removed or replaced. For a while they had solid color slip covers but don't currently.
---
Hi Guys! Let Me Teach You
May 1991 cd:COCA-7558
Instrumental TV soundtrack with only a couple hints of vocals. The finale is in the style of Perrey & Kingsley. Composed by Takanami, billed as the TAKANAMI, Keitaro Combo & Orchestra. Part of the Five by Five series. Sounds quite different from other albums I've heard most likely because Takanami is in charge instead of Konishi.
---
(*)This Year's Model (COCA-5123 Jun 1991)
(*)London-Paris-Tokyo (COCA-5133 Jul 1991)
(*)Readymade Recordings (COCA-5134 Aug 1991)
(*)This Year's Girl (COCA-7575 Sep 1991)
(*)This Year's Girl in Action (COVA-4091 Nov 1991)
(*)Miss Pizzicato Five Superstar (COVA-4152 Jul 1992)
(*)Sweet Pizzicato Five (COCA-10178 Sept 1992)
(*)Pizzicato Free Soul (COJA-9072~3 Oct 1992)
(*)Instant Replay (COCA-10650 Mar 1993)
(*)Sweet Soul Review (CODA-159 Apr 1993) single
---
Bossa Nova 2001
Jun 1993 cd:COCA-10837
Elaborate packaging. In line with their other releases especially the US versions. Keigo Oyamada produces. He is now extremely influential in the music scene and releases under the name of Cornelius.
---
(*)Souvenir 2001 (COCA-10897 Jul 1993)
(*)Expo 2001 (COCA-11243 Nov 1993)
(*)Free Soul 2001 (COJA-9154~5 Nov 1993) remix lp
(*)The Night is Still Young (CODA-218 Dec 1993) single
---

A Television's Workshop E.P.
1994 cd:COCA-11506
Has the Ugo Ugo-Lhuga kids from a quirky "children's" show by that name that P5 were frequent contributing guests on. The booklet is printed on super thick children's book paper. Includes Me Japanese Boy in Japanese.
---
(*)A Children Workshop E.P. (COTZ-819 Feb 1994) different
(*)Happy Sad (CODA-406 Apr 1994) single
(*)Happy Sad (COKA-2 Apr 1994) 17cmEP
(*)Superstar (CODA-463 Jul 1994) single
(*)Superstar (COKA-3 Jul 1994) 17cmEP
(*)Readymade TV (COVA-4370 Jul 1994)
(*)Overdose (COCA-11999 Oct 1994)
(*)On the Sunny Side of the Street (CODA-510 Oct 1994) single
(*)On the Sunny Side of the Street (COVA-4399 Oct 1994)
---
Pizzicato Five TYO
Big Hits and Jet Lags 1991-1995
(@)1995 cd: COCA-12414
Best of. TYO is the airport abbreviation for Tokyo and I think their company or something . Includes a complete set of airport luggage stickers and tags. I don't know the albums well enough to know how much of this stuff is "best of" and how much is unique to this cd in Japan or the U.S.
---
A Quiet Couple [instrumentals]
(*)1995 Sony SRCL-3372
Magical Connection
Summertime, Summertime
They All Laughed
Serial Stories
The Apartment
What Now Our Love
Seven O'Clock News
Odd Couple and Others
My Blue Heaven
Party Joke
Two Sleepy People
Everytime We Say Goodbye
---

Romantique 96
(@)1995 cd: Triad COCA 12886
This was slated for US release by Matador as Romantique, but never made it out. Good is already out onthe U.S. cd Sound of Music, so I suspect the US release, if it comes, will have different contents.
---
Antique 96
(*)1995 Nippon Coloumbia/Sony (pressed in Austria 1996) SRCL3370/COL4837892
Compilation of material from 1985 - 1990, with two remixes from 1995.
Kiss Kiss Bang Bang
They All Laughed (new mix 1995)
Summertime, Summertime
Seven O'Clock News
My Blue Heaven
The Apartment
Planets
Temptation Talk
World Standard
This Can't Be Love
Bellissima '90
T.V.A.G.
Lip Service
Satellite Hour
Sex Machine
Lovers Rock (Mad Professor Mix 1995)
Two Sleepy People
PR Comments: A collection of catchy but mostly lightweight pop songs, several of which are reminiscent of the romantic Takahashi sound on "Saravah!", easy listening styles, Bacharach and so on. The songwriting is very strong, but then a lot of the songs appear to have been the title tracks of their albums. My copy is an Austrian pressing in an outer box with a booklet and extra card sleeve inside. The deceptive packaging, which never mentions the country of manufacture, may lead you to think this is a Japanese edition (I thought it was).
NK: Possibly a different track order in Japan
---
Baby Portable Rock
1996 CD5: Columbia/Triad CODA-909
Baby Portable Rock
Baby Portable Rock (instrumental)
Triste [strings version]
Baby Portable Rock (Jingle mix)
Maki Nomiya was expecting a baby. In the 80s before Pizzicato 5 she was the lead vocalist in the band Portable Rock.
---
Sister Freedom Tapes
(*) 1996 Columbia/Triad, Matador (USA 1997) OLE2232
Airplane 96
Domino
Snowflakes
Chicken Curry
Mini Cooper
Holger & Marcus
Cornflakes
To Our Children's Children
Passing By
PR Comments: Budget priced release housed in a gatefold card sleeve. There is also a fold-out insert which unfortunately is far more attractive than the music. Dreadful, rough, almost 1980's UK indie sound, which got it some favourable reviews in the UK inkies. Avoid this if you are a fan of their material like "Happy Sad", "CDJ" or "The Night Is Still Young", because this is nothing like it. However, you will like the next CD (Combinasion Speciale: Pizzicato Five In Dub) a lot...
---
Combinasion Speciale
Pizzicato Five In Dub
1996 Columbia/Triad COCA-13433 Matador (US 1997) OLE2242 also 10"
Interview ~ Baby Portable Rock (Mexican Rock Version)
Icecream Meltin' Mellow (Marin Mix 2 - remixed by Yoshinori Sunahara from Denki Groove)
Contact (Percolator Mix - remixed by The Gentle People)
Good (Samoan Attorney Mix - remixed by Nuaga)
Tokyo Mon Amour (Discotique 96 Mix - featuring Daisaku Kume)
Icecream Meltin' Merllow (Marin Mix 1)
PR Comments: An excellent disc that features a lot more electronics than most of their material. Well packaged in a gatefold card sleeve with an attractive fold-out insert. This material is in complete contrast to Sister Freedom Tapes, perhaps an indication that the group are torn by the two directions they are expected to perform well in; the Western press expect them to be a 60's influenced pop outfit with James Bond and Mission Impossible flourishes while the Japanese public, having bought more danceable titles like The Night Is Still Young in great numbers, expects more of that.
NK: 2 tracks have the Denki Groove sound since they are by Sunahara.
---
Happy End of the World
1996 cd: ********* Records (Japan) COCA 14242, Capitol 7243 8 59181 2 (europe?), Matador OLE 198-2 (US)
Marco van Meerten writes: The cd comes with a little booklet, and 2 little cards (one with Nomiya Maki, dressed in a kimono, and one with Konishi Yasuharu, wearing some kind of business suit).
1. The world's spinning at 45 r.p.m. (this same track is also on a cd-single "Mon Amour Tokyo" OLE 290-2 released by Matador, but then it is called "Happy Birthday". The version on the cd-single has a very classical setting, complete with strings. The album version is completely different, it sounds like a Beatle-song!)
2. The earth goes around
3. Trailer Music
4. It's a beautiful day
5. Love's Prelude
6. Love's Theme
7. My baby portable player sound ( a re-release?)
8. Mon Amour Tokyo
9. Collision and Improvisation
10. Porno 3003
11. Arigato we love you
12. Ma vie, l'ete de vie
13. Happy ending
NK: the Japanese packaging is very different and hard to discribe. This was their first full length album to be released intact musicwise overseas. It does have some long, non-singing passages in Japanese.
Mon Amour Tokyo
1996? cd single Matador (US) OLE 289-2
1. Mon Amour Tokyo (English version)
2. Mon Amour Tokyo (album version)
3. Trailer music (808 state remix) remixed by 808 state
4. Trailer music remixed by momus
Mon Amour Tokyo
1996? cd single: Matador OLE 290-2 (Matador)
1. Mon Amour Tokyo (English version)
2. Mon Amour Tokyo (album version)
3. Contact (Dimitri's voco dubstrumental) remixed by Dimitri from Paris
4. Happy Birthday
NK: there must be at least a dozen singles in Japan. Some limited edition. I cant keep up with it all!
---
Playboy & Playgirl
1999 (US) Matador Records OLE 333-2
La depression
Rolls Royce
A new song
Week-end
Magic twin candle tale
Concerto
Such a beautifull girl like you
playboy playgirl
la regle du jeu
I hear a symphony (MvM adds: it sounds to me like an Astrud Gilberto song!)
Drinking Wine
The great invitations
Stars
Marco van Meerten writes: Do I like it? Well, it sounds all right to me, but not so "technical" as their other albums. When I listen to this cd, it's just like I'm stuck in some kind of time-warp. I picture myself shopping in London at Carnaby Street, around 1967, while this music is playing in the background! Again it's heavily influenced by the Beatles, Astrud Gilberto and a little bit of Burt Bacharach! And not futuristic at all. But the strings are there, which are great! Hopefully their next album has some kind of disco-flavour!
NK: this album definitely is going for an authentic retro feel and the professional production values expected in a top flight album of an earlier era.
---
Notes:
During the years before the US releases, I saw them at one of their first (if not their first) U.S. show, which was headlined by Shonen Knife.
Interestingly 5 or so later albums were showing up in NYC at $20-$22 each in the 90s(wich is less than they normally cost in Japan) I'm told Matador has made an import deal. I am also told that the booklets and gifts in these imports are now missing. I do not know if these items are now normally not included in Japan also, or if these imports are from a special production run from Japan to bring the price down. A lot of initial CD releases have special packaging that reverts to normal packaging after 5000 or some number of CDs. Sometimes the first run of a Japanese album will have deluxe packaging which is later revised. I think they are pretty much all sold by now.
---
---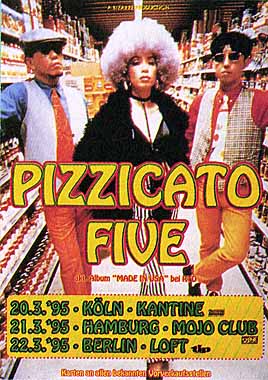 U.S. releases:
Now matador seems to be releasing their albums with the same contents as in Japan.
---
MADE in USA
1994 Matador (US) OLE 099-2
First US album. Compiled from the Japanese releases. Possibly different mixes. Loads of fun. Very sample heavy. I make no reccomendation of them from an electronics viewpoint. On the other hand, they are real interesting in the way they recycle old jet-set material into new numbers. The group: Konishi, Takanami and Nomiya.
Their huge back catalog is rumored to be somewhat problematic for U.S. release because of heavy use of uncleared samples.
FIVE by Five
1994 Matador maxi-cd (US) OLE 096-2
pizzicatomania
Baby Love Child (LA english mix)
This Year's Girl #2 (english language)
Twiggy, Twiggy
Me, japanese boy (in english, somehow I'm unconvinced)
First US release. Mostly different but related material from the above album
Quickie EP (*)
I didn't pick this one up based on the apperent near identical tracks on the album.
Secret-Secret Rob adds: There is one track on it that make's it worth picking up. The radio edit of "Magic Carpet Ride." It's a little over a minute shorter. Compressed and mixed better too. It gives the song more of a kick. I was rather surprized that this song didn't do well for P5 here in the states as a follow up to Twiggy.
---

The Sound of Music
1995 Matador (US) 92622-2, OLE 166
Members are just Konishi and Nomiya now. Nice design and packaging. Includes an AMEX style fan club membership card (from that conterversial TEC Tones outfit in Hoboken). Compiled from the Japanese albums, probably mostly remixed. They play Good by the Plastics. Tachibana guests. Clever material.
Unzipped EP
1995 Matador (US) OLE 167/2
Happy Sad (single edit)
If I Were a Groupie
CDJ (readymade mix)
Happy Sad (the hot wax mix)
Movie tie in. Not much different from the album to my ears. Nothing special.
---
Happy End of You (remix)
1998 Matador (US) cd: OLE 282-2
remixes by: The Automator, 808 State, Daddy-O, DJ Dara, Gus Gus, Sean O'Hagen, Oval, John Oswald, St. Etienne, Momus, The Shooter, Dimitri from Paris, Daniel Miller and Gareth Jones.
better than average album of remixes, some mixes strike me as more repetitive rather than falling into a groove (in which case the repetitiveness isn't bothersome)
---
---
related projects
---
Portable Rock
Q.T +1
1985 reissued 1998 TKCA-71439
I think the first CD release added a track so the "+1" was added, a fairly common reissue practice. This was an 80s band with Maki Nomiya singing lead vocals. The ablum was procuced by Keiichi Suzuki. Quite enjoyable with some catchy tunes.
---
K-taro Takanami Presents
Cine Techno
performed by OUT OF TUNE GENERATION
93.11.21 Triad/Nipon Columbia COCA-11352
This is the first of the Cine Techno series, which consists of synthesizer cover versions of movie themes done in a technopop style.
7 Uomini d'Oro (Trovajoli)
Modesty Blaise (Dankworth)
Tu Seras Terriblement Gentile (Loussier)
Mon Oncle (Barcellini)
The Trouble With Harry (Herrmann)
Les Aventuriers (De Roubaix)
Jaws (Williams)
Boy Named Charlie Brown (Guaraldi)
Zazie dans le Métro (Capri)
Sweden Heaven & Hell (Umiliani)
More Cine Techno Preview (a medley inluding "The Odd Couple", Rota, etc.)
Quite amusing
there's a volume 2 that I haven't heard. Yukihiro Takahashi did 2 albums of his own similar concept Cine Techno some years later.
---
---
thanks for info from Ty Liotta (fan) page Pizzicato Five
---
I'm still working on my links. There are many many pages, so I havent been all that dilligent on this one. (and have yet to see anyone link my page).

<
---
BACK TO MAIN MENU
---
Copyright Notice! Compilation, design, and layout of this web page is copyright 1999 Nicholas D. Kent. All rights are reserved by its individual trademark/copyright holders. This web page is a product of fan appreciation and is not intended to infringe upon properties held by its rightful owners. Any part of this web site may be duplicated and distributed to other networks and BBSs UNMODIFIED, with all ownership and copyright information intact. No portion of this web page (including but not limited to documents, images, and sound clips) may be sold in any way and is expressly forbidden. (Thanks to Kyong Il Lee for writing these lines.)
---