P-VINE RECORDS
TECHNO CA-YO
COLLECTION

compiled by Nicholas D. Kent
email: ndkent "at" optonline.net

Last updated 05.03.13

Track name translations were found on Buggle's techno-electro-synth pop academy site
---
The P-Vine Techno Ca-yo series (1999-2000):
In 1999, P-Vine Records in cooperation with 7 labels (Alfa is part of Toshiba/EMI now) released a series of 8 compilation CDs focusing on more or less now forgotten mainstream pop songs from mostly 1980-85 that were done in a Technopop style. While some of the big names are represented with poppy tracks (like YMO, Hosono, Sakamoto, Logic System), this series foucuses on the cute and quirky aspects on the whole semi-mainstream subgenre and features a lot of production for other artists by YMO members and the Moonriders family.
All the releases are co-ventures with the labels in question. They come with good booklets (all in Japanese) with teasing info on the tracks, major credits, lyrics, color album cover illustrations, funny tricked up shots for synth spotters (the real records didn't use as cool and obscure gear as pictured!)
I list the volume number and the label name before the actual disc title- each volume of this series is grouped by the label these tracks came out on. Its interesting to hear if there is a "label sound" or personality to any of these collections... but probably the stretch of years these tracks came out in (around 1979 to 1987) kind of hides any similarities.
Looking around in 2004 it seems all of these releases are out of print though you occasionally find them. kyokayoku
Sony who sat this series out released a follow up on this concept in 2005 with two boxed sets called "Yellow Magic Kyokayoku" (3CDs) and "Techno Magic Kyokayoku" (2CDs) of Techno Ca-yo tunes by YMO member and non-YMO producers. more info
---
1. Toshiba EMI
Digita Love
PCD-1487 [PCDZ-1678]
Fever: Digita Love
The Ventures: Pike (a Hikasu cover)
Magical Power Mako: Fresh Vegetable
Menu: Nankinteria De Dotekabocha
Logic System: Domino Dance
Reishinkai: Reishinkai No Zundoko Bushi
Paul Hardcastle/Kango Kobayashij: Nineteen [this seems like a Japanese language overdubbed version using the original tracks]
Miss Orange Shock: Itoshi No Rina
Masahiro Shiga: Ondo Piko Piko
Yuko Sakaitsukasa: Computer Obahchan (Sakamoto was in on this)
Barracuda: Arara Korara
Ritsuko Ohwada: Uchu-jin No Telepathy
Barracuda: OH Techno Gal
Kaori Tsuchiya: Aishu No Orient Express
Kenji Haga: The NeverEnding Story Theme (a Moroder cover? unless its a Japanese overdub?)
Ryuichi Sakamoto: Photo Muzik (a rare non-album single)
---
2. Polydor
Heartbreak Taiyo-Zoku
PCD-1488
Starbow: Heartbreak Taiyo-zoku [music by Hosono]
Yu Hayami: Kiss Wa Koroshi No Sign
E.S. Island: Tech Tech Mummy [production by Hosono: some kind of Urusei Yatsura tie-in]
Kiyoshiro Imawano + Ryuichi Sakamoto: I-ke-na-i Rouge Magic
Shigeru Izumiya: EROS
Rymans: Ryman Kakumei
Masato Shimon: Star Wars Theme ~ Cantina Band (with lyrics!)
Maki Edo: Migiagari No Hatsukoi
Yukano Yamaguchi: Chinese Boy
Kiyoshiro Imawano + Ryuichi Sakamoto: Aka-ru-i-yo
Ikkaku Tanabe: Kyukyoku No Sentaku [sampler rap with samples from Edgar Winter's Frankenstien]
EX: Masked Ball (American Type)
Harumi Nakajima: Shampoo
Virgin VS: Hoshizora Cycling
Starbow: Tokyo Bay Blues [music by Hosono]
Miyuki Kosaka: Nuance Shimasho
---
3. Victor

Cosmic Surfin'

PCD-1489

Two Beat: Ore Wa Zettai Technician
Kirara & Urara: Centi Metal Boy
Childs: BANG! BANG! GIN! GIN 1up
Cosmic Invention: Cosmic Surfin' [YMO cover version]
Kuniko Yamada: Tetsugaku Shiyou [music by Hosono]
Spy: Jooh-Heika No Chess Game
Mari Iijima: Love Sick [arrangement by Sakamoto]
Cosmic Invention: YAKIMOKI
Yusaku Matsuda with EX: Platinum Night
Maki Nomiya: Onna Tomodachi [1981: future Pizzicato Five]
The No Comments: Ano Ko No Western Stree
Tetsuko Homma: SO WHAT?
Kirara & Urara: Pakkun Tamago! ~Sora Kara Tamago Ga Futtekita
Passionata: Kasei To Kinsei No Inbou
The No Comments: Dervish Dance
Mari Mizutani: 21 Seiki Made Aishite
---
4. Pony Canyon
SOS Pen-Pen Computer
PCD-1493
Yuko Matsuya: Ram No Love Song
Shinsuke Shimada & Samma Akashiya: I LOVE YOU Shitaiyo
Hyokin Directors: Hyokin Paradise
Salon Music: Duet Ni Muchu
Radical TV: Ai No Soviet
Tomoko Yasuno: Angel Kitaru [arrangement by Hosono]
Chiemi Hori: Wa
Yuko Kanai: Hashire Usagi [music by Hosono]
Miss Hanako: Sukkiyanen
Yuko Kanai: China Rose [music by Hosono: Arr. by HH & RS, 1979]
Radical TV: Frontier
Tomoko Yasuno: Mysterieux [music by Hosono]
Chichibuyama Band: Mirai No Love Operation
Unazuki Trio: Unazuki March
Tomoko Yasuno: Flower Bird Wind Moon (Jungle Mix) [music by Hosono]
Pegmo: SOS Pen Pen Computer
TENT, Takahashi's Pony Canyon label is printed small on the back with the other Pony Canyon labels. AFIK nothing hands-on from Takahashi is on this album (and seemingly this series in general, the YMO track and a Narumi Yasuda track excepted)
---
5. Teichiku

Lovely Singing Circuit

PCD-1494

Shi-Shonen: Kiss, Kiss, Kiss
The Targets: I Like The City
James Brown & F.O.E.: Sex Machine
Yapoos: Cecil Cut
Shi-Shonen: 2001: Lovers
Miharu Koshi: Hashire Usagi (music by Hosono)
The Targets: The Theme From E.T. (with vocoded lyrics!!)
Mariko Fuji: Tenshi To Mahou (music by Hosono, Indian musical feel)
Kaori Nakahara: Ginga Tetsudo No Yoru (music by Hosono, Night on the Galactic Railroad tie in)
Shi-Shonen: Hitomi Wa Sunset Glow
F.O.E.: Return Of Body Snatchers (Exterminated Mix)
Yapoos: Barbara Sexanoid
Urban Dance: Ceramic Love
Mikado: Carnival
Mariko Fuji: Sonna Haru Ga (music by Takahashi)
Shi-Shonen: Lovely Singing Circuit

Sex Machine by James Brown & F.O.E. (FOE was a post YMO Hosono band project) is the single version with some slight differences from the album version. Mikado, I guess are the only non-Japanese band in this series. The Yapoos from 12/87 seem to be the newest track in this series. 4 Shi-Shonen tracks are included, which are the most of any artist in the series. P-VINE later reissued their 2 full albums so its a bit too much of a good thing here.
---
6. Alfa
Techno Aquarium
Y.M.O.: Kimi Ni Mune Kyun
Apogee & Perigee: Gessekai Ryoko
Sheena & The Rokkets: Ukabi No Peach Girl
Apogee & Perigee: Shinkuu Kiss
Hajime Tachibana: Ma Ticarica
Miharu Koshi: Capricious Salad
Jun Togawa: Yumemiru Yakusoku
Test Pattern: Souvenir Glace
Melon: P.J.
Snakeman Show: Sakisaka To Momonai No Gokigen Ikaga 1-2-3
Hajime Tachibana: Rock (this is the version off Yen Memorial Album)
Kenji Omura: Maps
Haruomi Hosono: Yumemiru Yakusoku
Naoto Takenaka: Funky Mahjong
Jun Togawa: Boshi Jyusei
Apogee & Perigee: Hope
While many are rare tracks, the completeness of the YEN Box series makes most of these tracks (in green) duplicates.
---
7. Tokuma
Aitsu Wa Invader
Maki Ueda: Aitsu Wa Invader
Tunnels: Yabashi Bicchina Onna Date Night
Portable Rock: Haru-shite, Koi-shite, Mitsumete, Kiss-shite (Maki Nomiya's pre-P5 band)
G-G-Land: Himitsu Wa Chack
Miki Fujimura: Yume-Koi-Bito (music by Hosono)
Portable Rock: Green Books
Bushman: Kisula Kisula Odoru Pancake
Children: Kaeru
Narumi Yasuda: Kaze No Tani No Nausicaa (music by Hosono but he doesn't arrange)
Tsukasa Ito: Koi Wa Run Run (music by Sakamoto)
Shampoo: Tonight (probably Hirasawa produced)
Mio Fou: Milan No Kiseki-Miracolo e Milano
Narumi Yasuda: Chou Wo Chigitta Shojo (music by Takahashi)
Lisa: Watashi No Koi Wa Jiyugata
Tsukasa Ito: Tomodachi (music by Akiko Yano)
Maki Ueda: Invader Walk
no track dates in this booklet!
---
8. King
Electric Love Story
Haruo Chikada: Ah-A, Lady Harricane
PIC: Rolling Age
Masutatsu Ohyama Of Gokushin Karate Gundan: Theme Of God Hand
Kenji Endo: Uchu Bouei Gun
Bonus 21: Mario Syndrome
Kenji Endo: Aishu No Tokyo Tower
Koharu Kisaragi: Neo-Plant (by Sakamoto, this is the 12" edit)
Haruo Chikada: Electric Love Story
Earthling: Let's Find Our Bright Speed Again
Sarah: Satellite I-O [Long Version]
Nanako & Benco: Chu Chu Pap Pa
PIC: Garson Gang
Pink Tank: Miraijikake No Baby Pop
Sarah: Never On Sunday (not a cover version)
Mariko Kurata: Koi Wa Ami-Ami
Yoshinori Tsuji: Uchu Yori No Pantsman
---
---
complete album releases (first pair):
I guess these are part of the Electric Music in Japan series though Starbow I is definitely in the Techno-cayo category.
---
Mu Soundtrack
1977 Polydor lp: MR 7024, 1999 reissue cd: PCD-1435
I don't have the composers name but it is someone I'm not familiar with. This is an obscure TV drama soundtrack with fairly substantial synth use though its contains pretty much a bit of everything (koto, shakuhachi, real strings etc.). Bonus- the theme is played on a sitar. Winds up in very EZ listening territory too. Tacky fun though there are quite a few cool moments.
---
Starbow
Starbow I
1983 lp: Polydor 28MS 1130 1999 reissue cd: PCD-1437
An outlandish looking idol trio wearing matching space super-heroine outfits. Hosono writes the music for 5 of the tracks. I'm not sure if he produced. Their voices are kind of loud and unintentionally annoying. Good for a chuckle though.
---
---
Electric Music in Japan Series:
---
Tokihiko Morishita
Yokai Gensou - Mizuki Shigeru
PCD-1439 (1999 reissue)
Has a wonderful illustrated booklet. Kind of abstract electronic soundscapes. Original LP release date is unknown to me. These might be the same characters in illustrated form that appear in the "Yokai Monsters" films.
---
Hideki Matsutake
THE FANTASIA
The Invitation to the Stars
1978 Teichiku lp: PP-1502, P-VINE cd (1999 reissue): PCD-1440
This is a CD of vintage easy listening classics having song titles to do with Stars and the Moon all played on synthesizers. "Starlight" (Hoagy Charmichael), "Fly Me to the Moon", etc.. It has some nice Tomita style effects though by 1978 Tomita was in matchless form and this album doesn't quite sound anywhere near as advanced synthesis-wise as even Tomita's 1974 efforts. The sound is a bit muffled too, not quite hi-fi. It doesn't sparkle at all. Still its quite charming and quite reccomended if into '70s Moog Pop cover albums.
---
Keizo Inoue
Intimate
PCD-1442
A jazz fusion album for saxaphonist Keizo Inoue produced by Watanabe. The reasoning behind this re-issue is surely because Ryuichi Sakamoto backs on synths. I guess if you like his Kylyn work you might like this.
---
Sanshi Katsura & Bunchin Katsura
Rakugo - Shinsekai & Space Wars
PCD-1449
This is more a spoken monologue album. There are a couple synth interludes but only a few minutes total worth of music. Obviously knowing this, its not much of a listen unless you understand Japanese.
---
Kyohei Tsutsumi and His 585Band
Hit Machine
1976 Toshiba lp: LF-91016 cd: P-VINE PCD-1450 (PCDZ-1711) (2000 reissue)
This is a mostly instrumental disco album with some female chorus vocals sung in english though mostly "dooos" and "ahhhhs", a real disco string section, guitar, drums and some lead lines played on synths. Some koto and Japanese touches from time to time. Its about half original pieces and half covers and isn't meant to be funny though in hindsight it is fairly campy, though not any kind of bizzare kitsch fest like some of the actual Moog cover albums are. Some questionable lyrics include the chorus "Baby please don't hit me... Your Hit Machine" and on another song the taunting repeated lyrics "Ain't nobody straight in L.A." Watch out :-) this album is marked in bold print as being part of the "Pro-Use" series and should be kept out of the hands of amateurs.
---
Ryuzaki & Rock Succession
Moog Sound Now
1972 Techiku/Union lp: JSP-1039 cd: P-VINE (2000 reissue) PCD-1456
This is not a Hideki Matsutake album, but it is the first synth album he worked on as an assistant and probably one of the first Japanese pop related synth albums. Its rather tacky, down to the cover with exposed butt cheeks. Its all rock instrumentals with regular rock instruments, guitar, bass and drums with a Moog playing the leads. Its definitely good for a laugh. Piles of these kind of albums came out of the U.S. and Europe during the late 60s and early 70s. I can't tell if the pieces are covers of Japanese pop songs or are originals for this album, I'd guess the former.
---
Hideki Matsutake, Chojuro Kondoj, Masashi Komatsubara
Edo
late 1970s? lp: Columbia WX 7016 cd: P-VINE (2000 reissue) PCD-1452
This is an instrumental album of 2 side long pieces presumably depicting old Japan (Tokyo was once called Edo). The album is an intersting interplay between Moog and traditional Japanese instruments. A little like 70s Tangerine Dream in style but not that close and not sequencer heavy.
Matsutake-san's website announces a follow-up, presumably newly recorded sequel
---
Kohnosuke Oda
MUSIC-EFFECT
1980 lp: SE8002, CD re-release (2000) P-VINE PCD-1436
Music and sometimes also sound effects to a lot of NHK TV specials dating between 1977 and 1979, seems to be mostly science and nature programs. A variety of moods and lots of synths, though slightly early sounding. It seems to be billed more as a sound effects album - "The New Wave for Sound Effects" right on the cover. It does not really function as a sound effects album, its more a showcase of a number of soundtracks.
---
Kohnosuke Oda
Der Trophen Am Horizont
1986 lp: SE8002, CD re-release (2000) P-VINE PCD-1457 (NKCD-3318)
Seems to be a follow-up with music from various projects 1979-1984. Spacey.
---

Y SETSU O
ERO MAGIC ORCHEATRA

2000 PCD-5808
A contemporary YMO parody release that got grouped with the above releases. more info here
---
---
TECHNO KAYO DX SERIES
This is the follow up with intact albums
---
SHI-SHONEN
The Lovers in 2001

PCD-1331 (Teichiku)
This version contains the 4 song EP Do Do Do
---
Films
Missprint

PCD-1332 (Columbia)

a favorite of Buggle (of the Techno Pop Academy site), thanks! New Wave songs.
---
C-C-B
Suteki na Beat
(*)PCD-1333 (Polydor)
looks like a comedy group?
---
Chris
Poodle
(*) PCD-1334 (Victor)

looks like some sort of idol
---
The Ventures

Cameleon

(*)PCD-1335 (EMI)

This is the American surf band - what's of interest to the series is they cover Hikashu's Pike.

Goldfinger
Theme From No Smoking
Mushuku
Surfin' U.S.S.R.
Washington Square
Octopus Tree
At the Swimming Pool
Mecca
Stiketo Flamingo
Salty Dog
Ginza Ska
Pike

Pike (from Super Live '80)*
Slaughter on 10th Avenue (from Super Live '80)*
Telstar (from Super Live '80)*
*Bonus Tracks

---

Shi-shonen
Singing Circuit
PCD-1336 (Teichiku)
All the work I know of their's was reissued in 2000.
theres a 3rd compilation I have no info on that was released on another label consisting of some non-album singles I think, remixes also? Anyway the 2 regular albums are in this series
---
E.S.ISLAND
Funny Inspiration from Solar Music

PCD-1337 (Universal)
Hosono was in on this. I believe they are writing and playing themselves so its less Hosono-like than say a singer he wrote tracks for himself. Still, its a lot of upbeat fun.
---
NARUMI YASUDA
First Album

PCD-1338 (Universal)
This album was produced by Takahashi. Some of her songs were written by Hosono, but he's not playing on them as far as I can tell. This also includes her famous Nausicaa song which it seems was a single, but its included as a bonus track . A good solid young singer album from the early 80s
---
The Targets
The Targets
PCD-1341 (Taurus)
Sort of Disco-ish
---
URBAN DANCE
URBAN DANCE
(@) 1985 PCD-1342
This band album originally released on the Non-Standard label shares a lot with the then just shut down YEN label in terms of style. Takahashi produced and its fine, somewhat hard edged technopop. FYI It's neither dance nor urban music at least in the U.S. sense of those terms.
---
Sony's Kayoukyoku Series (2005)
Yellow Magic Kayoukyoku
Disc 1
1. Manna "Yellow Magic Carnival (single version)" (1979) HH music
2. Chikada Haruo "Electric Love Story" (1979) HH arr
3. Sheena & the Rokkets "You May Dream" (1979) HH arr
4. Kanai Yuuko "China Rose" (1979) HH music arr, RS arr
5. Minami Yoshitaka "akogare no Radio Girl" (1980) RS arr
6. Minami Yoshitaka "yoru no tsubasa" (1980) RS
7. Sandii "Idol Era" (1980) HH mus arr
8. Ohnuki Taeko "Carnaval" (1980) RS arr
9. Susan "Ah! Soka" (1980) YT music, HH arr
10. Sheena & the Rokkets "ukabi no Beach Girl" (1980) YMO music arr
11. Rajie "Radio to futari" (1980) YT arr
12. Rajie "Apartment" (1980) YT arr
13. Yano Akiko "harusaki kobeni" (1981) YMO arr
14. imo-kin Trio "High School Lullaby" (1981) HH music arr
15. Sakaitsukasa Yuuko "Computer obaachan" (1981) RS arr
16. Itou Tsukasa "koi wa runrun" (1982) RS mus arr
17. imo-kin Trio "Teardrop tanteidan" (1982) HH music arr
18. Nakahara Rie "Pretty Boy... daijoubu" (1982) YT words music arr
Disc 2
1. Yamashita Kumiko "sekidou komachi" (1982) HH
2. Susan "Samarcando Oodourii" (1982) YT
3. Ago & Kinzou "aishuu no Death Match Love (yokokuhen)" (1982) YT
4. Mita Hiroko "natsu no shizuku" (1982) RS
5. Starbow "Heartbreak taiyouzoku" (1982) HH
6. Kawashibara Yoshie "shiawase ondo" (1982) HH
7. Cosmic Invention "Cosmic Surfin'" (1982) YMO/HH
8. Manabe Chiemi "nerawareta shoujo" (1982) HH
9. Manabe Chiemi "Romantist" (1982) HH
10. Maekawa Kiyoshi "yuki ressha" (1982) RS
11. Koike Tamao "sangokushi Love Theme" (1982) HH
12. Yamada Kuniko "I Like Best" (1982) AY, RS
13. Yamada Kuniko "tetsugaku shiyou" (1982) HH
14. Ibu Masato "datte, Hormon Love" (1982) HH
15. imo-kin Trio "Teenage Eagles" (1983) HH
16. Kawakami-san to Nagashima-san "kita ka Chou-san matteta don" (?) HH
17. Go Hiromi "kimi no na wa saiko" (1983) RS
18. Go Hiromi "mainichi boku o ai shite" (1983) AY, RS
19. Yumi "From Tokyo -Ending Theme wa Repeat de-" (1983) RS
Disc 3
1. Matsuda Seiko "wagamama na kataomoi" (1983) HH
2. Iijima Mari "Marin" (1983) RS
3. Koike Tamao "kagami no naka no 10gatsu" (1983) YMO
4. Tango Europe "Dancehall de machiwabite" (1983) HH
5. Takahashi Mie "Pink no kaban" (1983) HH
6. Togawa Jun "tamahime sama" (1984) HH
7. Yasuda Narumi "kaze no tani no Nausica" (1984) HH
8. Matsuda Seiko "Pink no Mozart" (1984) HH
9. Takenaka Naoto "Funky Mahjong" (1984) YT
10. Harada Tomoyo "Lycéenne" (1984) RS
11. Harada Tomoyo "kurara kibun" (1984) RS
12. Kilala to Ulala "Tuxedo Moon de yuushoku wo" (1985) RS
13. Nakahara Kaori "ginga tetsudou no yoru" (1985) HH
14. Nakahara Rie "namaiki musume" (1985) YT
15. Kisaragi Koharu "Neo-Plant (12inch single ver.)" (1986) RS
16. shoujo-tai "Siam Paradise" (1986) HH
17. Nishimura Tomomi "tenshi no yubisaki" (1988) HH
18. Tsumiki Miho "jidai yo kaware" (1988) HH
info from chipple.net
Techno Magic Kayoukyoku
Disc 1
1. Apache "uchuujin wanawana" (1979)
2. Sakakibara Ikue "Robot" (1980)
3. Hero "China Girl" (1980)
4. Mizuki Ichiroo "Mister Synthesizer" 1980)
5. Fever "Digitalove" (1980)
6. Barracuda "arara korara" (1980)
7. Hiki Rie "souzou ryoku shoujo" (1980)
8. Pink Lady "Amenic - gyakukaiten no Cinema" (1981)
9. Pegmo "SOS penpen Computer" (1981)
10. Manabe Chiemi "Heart ga pippi" (1982)
11. Tsuchiya Kaori "aishu no Orient kyuukou" (1983)
12. Jan Ken Pow "Space komachi" (1983)
13. Ohno Masae "Eccentric Person, Come Back To Me" (1983)
14. Takami Chika "kuchibiru Nude" (1984)
15. TPO "Hoshimaru ondo" (1984)
16. Ohta Hiromi "natsu e nukeru michi" (1984)
17. Ohta Hiromi "chirachira kasa shotte" (1984)
18. Gotoh Tsugutoshi "Time out" (1984)
19. Kousaka Miyuki "Nuance shimasho" (1984) Taeko Ohnuki words EPO music
Disc 2
1. Takenaka Naoto "Tokyo Boogie-Woogie" (1984)
2. Takenaka Naoto "sukusuku" (1984)
3. Ibu Masato "nanka choudai" (1984)
4. Manabe Chiemi "Wa-shoi!" (1985)
5. bokufuu Slump "aa! budohkan" (1985)
6. Sugiura Miyuki "hana no you ni" (1987) AY words, music
7. Mita Hiroko "enpitsu ga ippon" (1986)
8. Chiroline "tochuu ni shite ne" (1986)
9. Minamino Yoko "haikara-san ga tooru" (1987)
10. Harada Tomoyo "taiyo ni naritai" (1988)
11. Watanabe Minayo "kutsu o haita Summer" (1988)
12. Tanimura Yumi "kasa o motte dekakeyou" (1989)
13. Haga Yui "hoshizora no Passport" (1990)
14. Nakayama Shinobu "Lament No.5" (1990)
15. Shishido Rumi "conbini tengoku" (1991)
16. Shishido Rumi "chikyuu no kiki" (1991)
17. Haniwa-chan "kare wa gaijin" (1984/1991)
18. Haniwa-chan "Waitress" (1984/1991)
---
Hiromi Go
Hiromi Kyo no Hanzai
(*) 1983 CD reissue 2005 MHCL-495
This is a fairly well known (but not listened to by me) album by a guy singer with substantial Sakamoto involvement. Akiko Yano also contributes.
---
Chiemi Manabe
Fushigi Shojo +
(*) 1982 CD reissue 2005 MHCL-496
Young female singer with Hosono, Ohmura and Kato composing, Akiko Yano, Taeko Ohnuki and EPO lyrics.
---
Susan
Complete Susan
2005 2CD collection - more info
---
---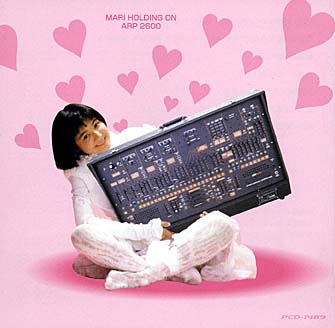 BACK TO MAIN MENU
---
Copyright Notice! Compilation, design, and layout of this web page is copyright 1999 Nicholas D. Kent. All rights are reserved by its individual trademark/copyright holders. This web page is a product of fan appreciation and is not intended to infringe upon properties held by its rightful owners. Any part of this web site may be duplicated and distributed to other networks and BBSs UNMODIFIED, with all ownership and copyright information intact. No portion of this web page (including but not limited to documents, images, and sound clips) may be sold in any way and is expressly forbidden. (Thanks to Kyong Il Lee for writing these lines.)