takako minekawa
compiled by Nicholas D. Kent
email: ndkent "at" optonline.net
Last updated 00.6.30
official usa label pages-
Yum Yum Radio has some material
Phonobaloon -a fan site about her, thanks for some info!
---
CHAT CHAT

95.6.25 Polystar cd: PSCR-5381

This was Takako Minekawa's first album. It is massively cute-- in a good way (not cute eeeuw yuck). She does pop numbers, many of which are covers, with lots of blips and synths sounds on top of a nice pop sound. Highlights are covers of Mike Oldfield's Moonlight Shadow, The Beatles (Baby You Can) Drive My Car with vocoding (a la Kraftwerk), also a covers of a tune by Takahashi. She covers an Hosono composition Kaze No Tani No Nausicaa (which was first done by Narumi Yasuda, but Takako's is far more articulate singing wise and fuller in general, the original has a sort of even big pop arrangement.) Lots of very witty songs, nothing avant garde like her later albums. Superb vocals and production.

YMO Trivia: recorded mostly at Alfa Studio "A" by frequent YMO and Hosono engineer Yasuhiko Terada.

Personal experience: was listening to this album on the train when I read Mae Questel (the most famous voice of Betty Boop) passed away.

According to her bio info this album was made from self distributed indie release with new tracks added. I've seen a collectors item that is a 5 song promo version on Polystar with different artwork. I don't know if this is was promo reissue of the mentioned indie release, a different item as some sort of preview, or it was the actual indie disc (the disc I saw being on polystar is contrary to it being an indie disc).
---
(A Little Touch of) Baroque in Winter

95.12.1 Polystar PSCR-5429

This is a 4 track Xmas sort of album. It alternates between a French Barrel Organist and NRBQ. Pleasant, the 2nd NRBQ number is very light sounding considering who's playing it. Nice, though not electronic and only good around Xmas.
---
Roomic Cube ...a tiny room exhibition

96.5.25 Polystar PSCR-5476, March Records (USA 1997) MAR028 also a US vinyl version

US released. A great album of songs with a Buffalo Daughter produced backing. Lots of cool retro Moog sounds. At times a little too much grunge guitar. This one trades cuteness for experimentalism. Nice booklet (I've only seen the US one), though only one song with printed lyrics! (aargh!) Very worthwhile though. The track Fantastic Cat has appeared first on a Darla compilation long before the US release of the album and then recently on Bungalow Records Sushi 4004 compilation. The contrast with Chat Chat is quite striking. Now she has an active part in the tune writing and its kind of electro grungy overall.
There is a US 7" single also. (with cover art by Tam Ochiai) but I don't have it. Never saw it for sale either.

(*) March (USA) MAR025 - Fantastic Cat -(white vinyl one sided) 7" Never saw it for sale

there is a preview promo CD version of Roomic Cube on Polystar which seems to be just select tracks and has no artwork on the packaging.

the picture on the left is Buffalo Daughtrer's Yumiko Ohno, TM and a MiniMoog. It was shot well after Roomic Cube and was on the cover of Keyboard Magazine (Japan) 2/98. As I recall TM was a columnist for the magazine that year.
---
Athletica
97.2.26 Polystar cd5 ep: PSCR-5577

Hope I didn't get that cover upside down! A real technopopis, one could say its fabie :-). 5 tracks. Has a more rocking version of Klaxon again with Buffalo Daughter. The rest is sort of first rate bleep and ping genre. Backing tracks are by Ahh! Folly Jet, who was with the band Asteroid Desert Songs) and M&M (not the Canadian band M+M ;-),who I'm not familiar with. The most beat/dance oriented of her albums. This one has all the lyrics printed and was not U.S. released besides the Buffalo Daughter new version of Klaxon re-appearing on Re-Cubed and Fabie (1,2,3 Beat It) as the b-side on a rarely seen vinyl single.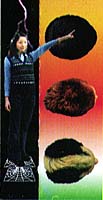 From this mini album came a US 7" single. (with cover art by Tam Ochiai) but I don't have it and never saw it. Presumably Klaxon! is the Athletica version but I'm not 100% sure.
(*) March (USA) MAR031 - Klaxon! b/w Fabie (1,2,3 Beat It) -7"
---

Cloudy Cloud Calculator
1997.12.10 Polystar CD: PSCR-5658, US release on Emperor Norton Records, US LP also

This one has different collaborators on many tracks. This album is loads of fun. Sort of like Krautrock sounds with pretty vocals. She does a takeoff on Kraftwerk's Autobahnand before period on a track and does a clever piece Stereolab style. The album ends with a cover of the Telestar played by herself and Buffalo Daughter, in the style of Martin Denny. Sugar from Buffalo Daughter collaborates on another. There seems to be a running theme about color theory on this album, but I can't follow all the lyrics.

Some refrences-
Milk Rock was the name of the first song on The Organisation's Tone Float (1970). The Organisation later expanded and renamed themselves Kraftwerk. T.M.'s song is original, not a cover. Calculators are a Kraftwerk refrence because of their early 80s hit "Pocket Calculator".

Telestar was a early 60s hit by UK producer/composer Joe Meek and the band theTornados. This instrumental inspired by the communications satelite was perhaps the earliest hit with a true electronic instrument as the lead sound (thought to be a Clavioline in the original, Meek was secretive).

The pretend calculator/musical instrument seen played by TM in a lab suit seems to be cooked up for the photo. Even so, it does seem inspired by the Stylophone, a circa 1970 electronic instrument aimed partly at kids which was a bit of a fad in the UK. Australian celebrity Rolf Harris was heavily associated with the advertisement and promotion of the Stylophone. Rolf Harris was also a UK celebrity because of his late 60s hugely popular novelty hit "Tie Me Kangaroo Down, Sport". Isn't it a coincidence?

Early japanese copies of this album had acetate artwork (see above). That and the current regular cover was designed by Phonic (mooog of Buffalo Daughter and wife Mariko). The current CDs seem to have regular packaging with a US variation. The above scan is of the deluxe Japanese package. I rotated the disc in the above scan to reveal the Takako picture disc. I think the CD picture is hidden in the shops.The US version has the same tracks but the booklet has lyrics to 2+ songs (pity not all the songs, but better than nothing)
the relationship between 47 and 2 ... it's nonsense
---
recubed ep
1998.8 Emperor Norton (US) cd: EMN 7009-2 (also US LP format?), (*)Japan cd: Polystar PSCR-5730
fantsatic cat pulsars
1.666666 dj me dj you of sukia
kalxon! (a new Type) buffalo daughter (also on Athletica)
desert song land of the loops
t.t.t. (Turntable tennis) trans am
sleep song portastatic




Japanese bonus tracks:

never/more sweet trip
destron junior varsity km



Remixes of Roomic Cube-- some fun listening!

the 2 Japanese bonus tracks tie in with her 98 tour where she was backed live by a member of each act. The Japanese cover similar but in blue. Takako in person sometimes sports a tote bag with this album cover pictured on it which is the right size for record toting.
---
XIMER ...c.c.c.remix
98.9.23 Polystar cd: PSCR-5710, US version: (99.7) Emperor Norton EMN 7019-2, also US LP format

spell the title backwards

Milk Rock Cornelius
Telestar Mark Bothwick and Trevor/hollAnd
Black Forest Kid Loco
International Velvet Oval (Marcus Popp)
Cloud Cuckoo Land Takako Minekawa (acoustic demo version)
Phonobaloon Song Nobukazu Takemura
Destron (?) Junior Varsity km (US version only... the track list says Black Forest, but the CD contains Destron, the Japan bonus track from Recubed EP )
Cat House Sweet Trip (US version only)
All sorts of very different styles. Milk Rock which was very good and the only really clubby track before remix gets even more club beats from Cornelius and is still very good. Where Recubed's artists were apparently suggested by Emperor Norton with TM's approval, this remix CD's artist rouster originated with TM and Polystar. Phonic do very creative packaging again for the Japanese release. At the CD shop there would be a cloud shaped sticker on the plastic wrap with the album name (not seen above). The (Japanese) cover scanned above has been autographed, it doesn't come that way ;-)
The USA version includes 2 extra remix tracks by her 98 US Tour bandmates. The cover art is in the US just says XIMER real big in banana color letters on a light blue cover in the Volkswagen font. Not too exciting, I wonder if its minimalism or just a quickie.
Evan Hayden spotted that the US version says it contains a new Black Forest remix when it contains a previous Japan only mix from Recubed. I don't know if this was ever fixed but the labels know there was a mixup.
here is a Black Forest real audio file from the Official Site.
---
Ximer Remix
1999 Emperor Norton 12" EMN 11
I saw this in Japan but didn't want to carry home an american import. Tough to locate and not to be confused with Ximer. The full set of bonus remixes by the tour band members on vinyl only. in an unprinted sleeve, I guess with the mixup and the Japan and U.S. only tracks, most everyone is at least missing one of these remixes... then again I think most fansmissed this whole 12"
Cat House Sweet Trip
Black Forest Junior Varsity km (the correct track here)
Destron Junior Varsity km
never/more sweet trip
---
Fun 9

99.7.7 Polystar CD: PSCR-5769 , also on Emperor Norton (USA)

pronounced fun k(u) in Japanese as in funk.

the new album-- tracks done solo and several collaborations with Sukia and Cornelius. I hear the initial packaging is limited (like c.c.c. on which only early copies had die cuts and acetate.) Mine is a digipack with separately stored CD and a special takako suggestion where to put it :) A 15 page booklet with lyrics. Overall design by Phonic.

The image to the left is a scan of the cover outside the plastic bag on the Japanese limited version (see her site for what it looks like with the sticker) the art looks just like the CD itself (or half of it) The pink color is from the scanner reflecting itself, in real life the cover is reflective silver.

Tthe regular Japanese and the US versions all have different art

This release is in HDCD format in Japan. I'm told this allows for regular playback on regular CD players, but also has the ability to playback at 20 bits (instead of 16) with a special decoder.

I think there's a relationship between "Fun" and "9". If you really stretch things, "9" in french is "neuf" which is sort of "Fun" backwards. Isn't it a coincidence.

Influenced possibly a little of the Dutch recording artist Solex on 2 or so tracks (Tiger)

The US release is out now, what are you waiting for? It includes a bonus track, Etoufé a french version of Spin Spider Spin from a 1999 Tratoria compilation of v.a. French language tracks.
Plash EP
(*) 99 7" vinyl Polystar

limited. no other details. Never seen it maybe it never came out
---
Maxi On
00.7.12 Tratoria menu.214 also on Emperor Norton
This is a 6 song mini album. The first 4 tracks are co-written and produced with a New York band called Dymaxion (refrence to the brilliant and or eccentric inventor-theorist R. Buckminster Fuller). The 5th trackis just TM and 6th with husband Keigo Oyamada playing a lot of instruments on the final track.
The U.S. version has a new 7th track "Sleeping Bag" which is her solo in similar style.
---
---
various artists
A Simple Man
Hal Hartley Film Music Cover Compilation
97.4.25 Polystar CD: PSCR-5594

2 instrumental cover tracks of material in this tribute album of covers of US film director and Hal Hartley (and his incognito composer persona Ned Rifle). TM does the end credits and Cue #32 from the film Simple Men with blippy electronic sounds and 70s rhythm box. She collaborates with Kuknacke who I'm unfamiliar with.
---
various artists best of
WITZ vols 1 & 2
(*)Vol 2 is a 12 track compilation. (PSCR-9108 LTD ED regular.PSCR-5671)

Includes some Chat Chat tracks and L<->R tracks including one she gets credit on. (Nothing exclusive of her's AFAIK)
A limited early edition of vol. 2 has a video tape which includes a B&W 60s style L<->R video and TM's Xmas single video.

---
Early Bands:
---
Fancy Face Groovy Name
Various Artists
Fab Gear
90.12.01 Polystar PSCR-1016
Apparently their only appearance on CD is one song on this compilation-Love is yé-yé (looking for my idol). The 2 singers in this band were a then unknown Kahimi Karie and someone who didn't keep her faux french stage name, Mamene Kirerie. The rest of the band consists of a moonlighting Flipper's Guitar (Keigo Oyamada and Kenji Ozawa) who also appear on this rather rare but findable compilation. Apparently they were a sort of hobby band and I suspect they got on the compilation for being friends of Flipper's Guitar. About half the acts are from the beginnings of the Shibuya-kei scene (including Bridge) and then the remainder are eclectic mostly European acts like Momus and Louis Philippe.
(thanks Ron Kane!)
L<->R


Land of Riches

1993 PSCR-5075-5076, PSCR-5297 re-release

I have this one as a 2 CD set. I've also seen a separate Land of Riches Reverse, which might be the second disc of mine. Recently there seems to be a reissue as one CD as the separate CDs are not full CD length. I've not been able to sort out the various releases. The album seems to have an American theme and includes a different rendition of takako singing "Circling Times Square" (also on Chat Chat), her voice and the arrangements are less full on this album than on her solo debut.

L<->R

(@) LEFTY IN THE RIGHT (PSCR-1048, PSCR-5294, re-release) 92.4.25
LAUGH+ROUGH(PSCR-5172, PSCR-5295, re-release) 92.11.16
(@) LOST RARITIES (PSR-5021, PSCR-5296, re-release) 93.6.25

All these have some Takako participation. I've also seen some kind of real rare promo 7" and a CD3 with Takako in the band. Maybe this material shows up on the various L<->R collections. Lefty in the Right, while unknown to American fans they were and AFAIK still are a very sucessful band. (not some obscure little act) My understanding is Takako started as just a backing vocalist and eventually became a member for a while before leaving. I presume she wasn't finding the creative outlet she was after. So while she needed to independently have her first tracks recorded as a solo artist she was far from unknown as an ex-member of L<->R and she eventually signed with their parent label. There are quite a few other albums without Takako.

TM co-wrote (too many flowers and mirrors) In My Room on LAUGH+ROUGH

---
Cornelius
Typerite Lesson
1998 Matador (U.K.) cd: OLE 308-2

this is a non-album track from Fantasma. I found it on a British released Cornelius single Free Fall.

Takako (uncredited on at least this UK single) repeats letters of the alphabet, all acronyms (FBI, CIA, etc. with a probably problematic for American release final two). Its just like a recording made to learn touch typing but adds a groove spins alongside-- odd, and perplexing but worth a listen. I heard mention of the Afghan Wigs doing something along these lines, I don't know how they connect if at all - cover? coincidence? influence?
---
---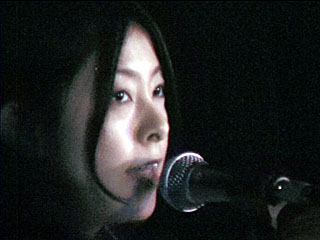 link to concert snapshots

---
---
---
thanks! - rodney alan greenblat, tam ochiai, howard greenberg
---
BACK TO MAIN MENU
---
Copyright Notice! Compilation, design, and layout of this web page is copyright 2000 by Nicholas D. Kent. All rights are reserved by its individual trademark/copyright holders. This web page is a product of fan appreciation and is not intended to infringe upon properties held by its rightful owners. Any part of this web site may be duplicated and distributed to other networks and BBSs UNMODIFIED, with all ownership and copyright information intact. No portion of this web page (including but not limited to documents, images, and sound clips) may be sold in any way and is expressly forbidden. (Thanks to Kyong Il Lee for writing these lines.)
---