compiled by Nicholas D. Kent
email: ndkent "at" optonline.net
Last updated 00.10.6
(*) means I've not heard this album
(@) means I've listened to this album, but don't own a copy
---
---
Towa Tei
Demo Tape 1
(*) Kenji mori writes: This is from the radio program Sound Street (NHK-FM Tuesdays), Sakamoto was the DJ of this program. This CD is from a popular segmentof that program named "Demo Tape Special" This was a segment playing demo tapes from the show's listeners and Sakamoto added comments. This CD is made from the demo Towa Tei sent to the show.
nk: I don't have a date handy but I know the material comes from before he was known as a solo act.
---

Towa Tei
Future Listening!
1995 Electra (US) cd: 61761-2

Towa Tei made it big in New York with Dee Lite in the 80s. This is his first solo. He shares many of Sakamoto's N.Y. collaborators like Arto Lindsay and Natasha Diggs. Sakamoto plays jazzy piano noodlings and some string arrangements on 3 tracks. RS and HH play on a track. Other guests are T. Fuji, Y.Shimizu, Tachibana, Matsutake and Maki (P5) Nomiya.

This album is fun. The electric sitar playing is cool. Very entertaining but not all that substantial.

Tei has released 2 remix albums in Japan called Future Recall! and Future Recall 2! and 2 remix singles Luv Connection and Technova in the US which I think feature some extra remixes not on the Future Recall! albums. There are CD3s also
Luv Connection
1995 Elektra (US) 66098-2

contains 10 mixes. A track with both Sakamoto and Hosono. Remixers include Tei, Little Louie Vega & Kenny Dope Gonzales, Georgie Porgie, The Angel, Allstar, Maurice Joshua, Height 611,
---
Towa Tei
Sound Museum
1998 Elektra (US) cd: 61936-2

Guests include: Hosono, Akiko Yano, Kylie Minogue backed by Hosono vocals (!), Matsutake, Fujii, Francois Kervorkian, Chisato Moritaka and Ken Nordine samples, Yasuaki Shimizu, Vinicius Cauturia, Biz Markie.

Lots of stuff, pretty fun, doesn't quite grab me, lots of it seem based more on feel and style than strong material to start with. Still its well worth a listen and has lots of clever bits.
SFTT (remix)
97.11.27 Akashic Records/east west cd: AMCY-2395

Stands for Stupid Fresh Towa Tei. Sound Museum remixes by Hosono, Blaze, Lisa Carbon, The Dream Team, DJ Die, Krust, Pacific 231

Includes a Towa Tei remix of the group En Vogue. Listenable but not that memorable.

Pacific 231 and Lisa Carbon are on Hosono's daisyworld label. No U.S.release
---
Towa Tei
Last Century Modern
(@) 1999 AMCT-4444 also U.S. released
Maybe more songlike without losing the club sounds. guests are : CHARA, UA, H. HOSONO, Y. TAKAHASHI (now having collaborated with all 3 members of YMO though never on the same album.)
---
Towa Tei
Mars
00.06.21 CD5: AMCT-4480
Mars
Happy 2000
Mars (Sunship Remix)
Mars (Version).
The singer and co-lyricist is Ikuko Harada from Clammbon. Everton Nelson (Sakamoto "1996"') does some distinctive real strings arrangements. Pretty appealing in the final "Mars (Version)", otherwise on par with his typical material. Happy 2000 is mentioned as part of the Sakura Hills Disco 3000 album which I preume is his contrinbution to that album.
---
Towa Tei has a duo with Toshihiko Mori named SP-1200. (Sounds like the name of an old (American made) E-mu drum machine) I saw him on a TV show in a different campy duo called Koji 1200. He has another side project called Sweet Robots Against the Machine.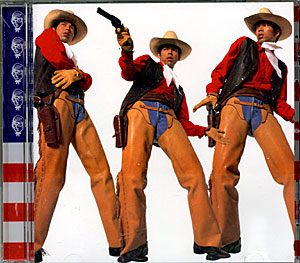 ---
---
BACK TO MAIN MENU
---
Copyright Notice! Compilation, design, and layout of this web page is copyright 1998 Nicholas D. Kent. All rights are reserved by its individual trademark/copyright holders. This web page is a product of fan appreciation and is not intended to infringe upon properties held by its rightful owners. Any part of this web site may be duplicated and distributed to other networks and BBSs UNMODIFIED, with all ownership and copyright information intact. No portion of this web page (including but not limited to documents, images, and sound clips) may be sold in any way and is expressly forbidden. (Thanks to Kyong Il Lee for writing these lines.)