Isao Tomita
compiled by Nicholas D. Kent
email: ndkent "at" optonline.net
Last updated 04.11.11
(*) means that I don't own this album at all.
(@) means I've listened to it, but don't own a copy
John Breslin and Ben Ward have put together a big unofficial site in English: Tomita: Sound Creature
Nasu Fantasia is a very detailed fan site in Japanese
John Breslin has an English language board discussing Tomita at Boards.jp
Current USA cat #s are in this color.
New Japanese 2004 remastered limited cardboard sleeve edition catalog numbers are in this color.


---
The Classical Synth Albums
jump to Tomita's Soundtracks, Pop and self-composed Classical Works
---
Snowflakes Are Dancing
(Japan title: Clair de lune or "Aoki Okami No Densetu")

released 1974.8.25
RCA LP 3008/PL 84229 (Album) RCAK 3008/PK 84229/RCAV 60579 (Cassette)
AR*1-0488 --fill in the "*" with D=Quadradisc, L=LP, K=Cassette, S=8Track,T=Q8 Cartridge, ATL1-4332 (Audiophile LP)
RD 84587/RCD1-4587 (1980s non Surround CD) BVCC-2514 (Japan cd) RCA 60579/60579-2-RG (early 90s U.S. Surround CD version), RC32C-1040 (80s Japanese CD?) , BMG Classics 09026-63588-2 (USA), BVCC-37405
| | | | |
| --- | --- | --- | --- |
| | Tomita's big debut in the West. He ushered in a whole new era in electronic sound and is IMHO the only artist besides Wendy Carlos to interpret classical music on the synthesizer with success. He tends to use sequencers on the complex parts (but it's done fluidly). His one "cheat" is that he extensively used Melotron to do choirs and strings instead of his large Moog Synthesizer. The Mellotron was a keyboard instrument that triggered a tape recording of an instrument for each key, sort of like sampling. For purists it is not synthesis (though effected by a synthesizer after the sound comes out). Then again Tangerine Dream used plenty of Melotron in the mid 70s. To this day he uses plenty of samples. A true classic, sublime. Be warned, if you have a short attention span, you would be better off with the next album. | | |
A remastered Dolby Pro Logic surround edition came out in the U.S. in 2000 as part of RCA Red Seal's High Performance Classics. While Tomita did not supervise this release (or the earlier silver covered Dolby Surround re-releases for that matter), it is an improvement in sound quality over past CD editions in some technical respects but its also contreversal because the dynamic range is stretched so quiet moments are followed by piercingly loud passages (something that never happens in Debussy's work, neither Debussy nor Tomita are out to jolt people) Also while noise and distortion have been corrected in a manner, there is a degree of shrillness and muffling that the earlier noiser and distorted versions don't have (due in some respect I'm sure to the loud portions maxing out, the quiet parts not only quieter but processed further for perhaps overly agressive noise removal). Still this version is quite available and inexpensive so its not that bad a deal. Prelude the the Afternoon of a Faun from the album Firebird is included as a bonus on the remastered CD

The new U.S. catalog number is 09026-63588-2 and it can be spotted by the large "High Performance" logos on the cover
pictured above is the Japanese cover art
---
Pictures at an Exhibition

1975.2.25
RCA LP 3010 (Album) RCAK 3010/RCAV 60576 (Cassette)
RCA/Plasma AR*1-0838--fill in the "*" with D=Quadradisc, L=LP, K=Cassette, S=8Track, T=Q8 Cartridge. DRF-3902 (?) PD80838/RCD1-0838 (1980s CDs?) RCAV 60576, RCA 60576 (1990s Surround CD from U.S. and E.C.) BVCC-2515, BVCC-37406
| | | | |
| --- | --- | --- | --- |
| | First rate and exciting interpretation of a great piece of music. Has not dated at all. The goofy Ballet of Chicks in Their Shells has become a staple of bad Kung Fu movies, so it's worn out it's welcome, but it's a riot on first listening. Lots of warm memories with this album. Great synth sounds and music. | | |
---
Firebird

1975.9.5
RCA AR*1-1312 --fill in the "*" with D=Quadradisc,L=LP, K=Cassette, S=8Track, T=Q8 Cartridge. , RK 11718 (Cassette), RCAV 60578/PD 81312(CD), RCA 60578-2-RG (USA Surround CD) BVCC-2516 (Japan cd) , BVCC-37407
Includes the earlier made Debussy track Prelude to the Afternoon of a Faun. The Firebird Suite is a little too massive for Tomita to cope with at this early date, but he still pulls off an imaginative interpretation. Night on Bare (Bald) Mountain is properly frenzied .

I first got the stereo 8-Track cartridge of this album! It includes the title track from Snowflakes Are Dancing as filler (due to the nature of 8-Track, a recording has to be broken up into 4 similar length "programs".) More recently the Debussy piece was added to the 2000 Snowflakes U.S. remaster.

The U.S.A. Dolby Surround edition is sold out. (unlike other albums in the series)

pictured left is the Japanese cover by animation legend Osamu Tezuka
---
The Planets

(also known as The Tomita Planets)

1976.12.20
RCA ARL1-1919 (LP), RCAV 60518 (Cassette), RCAV 60518 (CD), RCA60518, RCA 60518-2-RG (US Surround CD) BVCC-2508 (Japan cd) BVCC-37408

Maybe Tomita's most unified and exciting album. Fantastic synthesis. I'll go on the record saying this is one of the finest moments in Synthesis.
Unknown to Tomita, San Francisco synthesist Patrick Gleeson was working on the same piece (by Gustav Holst). His came out on a Mercury (cat# SRI 80000 LP - never released on CD) and his was called Beyond The Sun. Gleeson's record is stiff and dry compared to Tomita's. What can be said to the positive is that Gleeson does not take liberty with the original score, unlike Tomita who made silly alien sounds and broke into an interpretation of a clever traditional English melody quoted by Holst and other stuff between tracks. On the other hand Tomita's version is thrilling, powerful and emotional.

There was much contreversy surrounding Tomita's album. Though Holst wrote the music in the 1910s, his estate was successfully able to block the albums release in England (a few years earlier Carlos had had a piece similarly blocked by the Edward Elgar estate for UK release). It was released there many years later though. There do seem to be more Holst fans who object to this album than any other classical afficiandos of any of the other works Tomita has adapted over the years. When pressed they definitely object to some added material and the abridgement of the Uranus and Neptune movements (both there, just in shorter form). Asking Tomita in person he mentioned that in their full length these pieces just didn't lend themselves to sustained synthesizer arrangement. To be honest though the pieces are much shorter now I can't tell you any parts I can identify as removed though perhaps in this day and age a full length version Neptune would surely guarantee the ranking of a chillout ambient classic. (if it doesn't already regardless of the cuts)
The Planets 2003

2003 Denon DVD-A: COAQ-15

In 2003 Tomita released a DVD-A remix/remake in 4.1 channel surround sound, it contains a duplicate set of tracks to playback surround audio on regular Video DVD systems besides playing in higher fidelity on DVD-A equipment. (though a warning that it's region 2 NTSC so it may or may not play worldwide) Overall this release sounds like the 1976 version though of course very much in surround. Some people have picked out quite a few small differences and changes. You'd have to order this one from Japan. I've never seen it exported (perhaps being region 2)
---
Kosmos

Japan title: Cosmos

1978 RCA (US) PL 42652/RL 42652 (Album), RK 42652/RCA 2616 (Cassette), BMG 2616-2-RG (US Surround CD) BVCC-2509 (Japan cd) BVCC-37410

Some of Tomita's best work. Includes the despicable disco Star Wars Theme. Side B lags just a little bit but has a sublime Bach medley inspired by Tarkovsky's SF film Solaris. Later Carl Sagan this track in his (unrelated and later ) 1981 TV series Cosmos . The RCA compilation soundtrack lp: ABL1-4003, includes an excerpt from that piece along with classical cues and other synth composers previous work.) Also rumored to be renamed Space Fantasy (somewhere).

The Japanese version has a different track sequence hence some arrangement/mix differences on at least Star Wars.
The Japanese album The Cosmos of Isao Tomita (BVCC-37296 - not seen) is a 1999 best of album and not the 1978 album (at the left). It can be identified by a large "RCA Red Seal Best 100" logo at the bottom of the cover unlike the original at the left.

The UK LP version is missing 2 tracks. Pacific 231 (by Honegger, a deceased Swiss composer who's work was still under copyright) and Aranjuez (by Rodrigo who was still alive then along with enough added material that Tomita was co-credited though not a collaboration afaik).Probably problems with rights to those tracks in the UK. I'm sure RCA in the UK wasn't happy after the problem with the Holst estate on the last album.

There is a longer version of "Star Wars" on some less common releases - for example I think on the U.K. LP and perhaps some best ofs. This version has a much longer intro and more sounds at the end. The U.S. version just jumps into things.

The current Japanese remaster CD I think replicates the Japanese LPtrack order. It starts with "Thus Sprach Zarathustra" and "Star Wars" follows "Unanswered Question"
Various Artists
Music For The 3rd Millennium, Vol.1

(*) 1999 AMP-CD039 (U.K.)
Isao Tomita Pacific 231 (6:46)

Apparently through a misunderstanding this UK various synth artists compilation album was billed as containing an unreleased track by Tomita when actually the track is from Kosmos and remained unreleased only in England before this compilation.
---
Sound Creature

double lp May, 1977 RCA RVC 7564/5 out of print, no CD

A rare a 2 LP set where Tomita explains with step by step sound examples and Japanese text how he goes about recording his albums. This album contains some alternate binaural mixes and an exclusive original suite of synthesized pieces One Night On The Milky Way Railroad. It begins with a track by track build up example of a short segment of Daphnis et Chloe which was released some years later in completed form.

Never released on CD despite a bootleg with a somewhat convincing cover) Apparently by the era of CDs it seems to have been mutually decided the 1970s technology explained had changed too drastically in the years since the original release. Interestingly by the late 90s popular concensus has turned to more appreciation of Analog Synthesis often citing it as simply sounding better than digital technology.
---
Bermuda Triangle

1979 RCA PL 82885, RL 12885, ARL1-2885(Album) PK 82885/RK 12885 (Cassette)R32C-1044/RCD1-2855 (CD) RCA BVCC-2510 (Japan cd) BVCC-37411
Follow up to Kosmos, Includes Close Encounters and plenty of Prokofiev. Some of it is a little abrasive for my tastes. Has bite and plenty of strange atmosphere and massive synthesis. More original material than most Tomita albums. The Japanese CD has slightly different longer track names but the same music as far as I can tell (at one point I had heard that there was a different track order somewhere but I see no evidence, perhaps the generally longer English track names on the Japanese releases confused some collectors). The CD is only available in Japan. I always tell people this one is great for electronic fans who find his other stuff tame.

(left) Bermuda Triangle Japanese cover art by Tadanori Yokoo
---
Daphnis et Chloe (Japanese title_

Bolero (U.S. Title)

The Ravel Album (German Title)

1979.9.5
RCA ARL1-3412 (Album) RK 13412 (Cassette) PD 83412 (European CD), RCCD-105, RCD1-3412(CD) current Japan CD BVCC-2517, BVCC-37409
One of my favorites. Certainly not Tomita's flashiest and his Bolero is a little dull, though still nice. But Daphnis and Chloe Suite No. 2 and Ma Mere l'Oye are brilliant and IMHO his best balanced interpretations. His last album with almost exclusively analog synths. I'd say his 4 best albums are this, Snowflakes , Planets and Kosmos. CD only available in Japan

I've heard from Eurpoean fans that the out of print German CD of this album was titled The Ravel Album
(*) (US) PB 9498 (7" Single of Bolero)
---
Grand Canyon Suite

1982 RCA PL 84317/RS 9005/ARL1-4317 (Album) RSK 9005 (Cassette) BVCC-2518 (Japan cd) BVCC-37412

By Grofé. This is a symphonic suite of middle of the road American West tone paintings. This is probably exotic in Japan I'm not too excited by it. Also Leroy Anderson's Syncopated Clock, a witty piece of kitsch from TV game shows. Tomita's interpretation is cool. Both pieces are the kind of repertoire the Boston Pops would play under Arthur Fiedler. Tomita used his Synclavier II, a then state of the art digital synth system on this album. Out of print in the U.S. Some databases call this just "Grofe". No U.S. CD release.

Syncopated Clock wasn't on the older Japanese release (BVCC-2518) though it's been available on some U.S. and Japanese best of CDs. The recent Japanese CD remaster (BVCC-37412) now includes it on CD .
---
Dawn Chorus

Canon of the Three Stars (U.S. Title)

(US) PD 85184 (CD) RCA 1984 US LP: ARL1-5184, BVCC-2511 (Japan cd), BVCC-37413

A mix of classical pieces with wordless synthesized choruses. Several pieces are by Villa-Lobos. Tomita took astronomical data and used it as waveforms for his Fairlight CMI. While the data does seem to have been used, he seems to have tweaked it into sounding like the sounds he normally uses . Weirdly the US vinyl edition is stamped "Digitally Remastered" but there was no prior version (except maybe in Japan) and there was never a CD in the US so the "Digitally Remastered" blurb is kind of a tease. Rumor has it that the album had a fairly short deadline. The whole idea of the sounds made from outer space data seems so exciting so it is a little bit of a let down that it sounded like a digital orchestra.

Out of print in the U.S.. I've heard mention of American CDs floating around and being sold at collectors prices. If they are legitimate I do not believe they were normally sold to the public. The CD is normally available in Japan, but of course with the title Dawn Chorus rather than Canon of the Three Stars
The Japanese CD seems to contain Tomita's original track order. The U.S. album contains the same tracks but they are in a very different order probably connected with U.S. marketing. The Japanese CD opens with the title track which makes sense as to the title of the album but more importantly starts with sounds of the dawn, the U.S. order places it later which may make the albumn start with more drama but messes up the overall sense of piece to piece flow overall. Sort of a mute point now since the U.S. album is long unavailable but at the time I noticed the feeling of just a bunch of tracks when it came out and was saddened as years later this seemed to be his last album of all new material (at least for a while) and most of the aspects were a little dissapointing. The Japanese track sequence gives the listener much more of a Tomita experience.

The Pachelbel track shows up on: Pachelbel's Greatest Hit: Canon 60712-2-RG(CD) RCA Victor
---
Live at Linz 1984 - The Mind of the Universe
1985 RCA RCD1-5461 (CD) RCA ARL1-5461 (LP) BVCC-2512 (Japan cd)

Big concert event in Austria. For the most part Tomita seems to be remixing his released tracks. Some new pieces are included, often with live soloists (in this color below, I've matched the names of the same pieces even if the same piece has a different name). I felt dissapointed by the long and artistically dissapointing version of Beethoven's 9th using synths and live orchestra. (I'd take Carlos' Clockwork Orange version any day.) Thinking about I think it comes to it leaning toward a sort of pop influenced feeling, nothing interesting is being done with the piece.

Tomita is said to have played the lead melody in the Firebird finale live, the rest was tape with several guest soloists. Out of print in the U.S. and Japan.

The Rite of Spring was announced to have been his next classical album, but it was never completed AFAIK. One can hear an openning excerpt of Rite of Spring on this album. While not his most amazing interpretation it's facinating none the less.

The piece Blast Off contains sound effects material from The Planets with some vocoding. It acts as more or less a bridge rather than a stand alone piece.

I've come up with a theory that a notable difference between the Japanese and U.S. versions is that there are no Holst tracks on the Japanese version. I doubt they were an issue in Japan but perhaps the version eventually released in Japan was originally prepared for Europe where "The Planets" faced legal problems in the 70s. The released Japanese version also contains a German language spoken introduction. This wouldn't be much appreciated in the U.S., but had there been a unique European release the German speaking audience might have liked it ... Japanese listeners might also appreciate it not for the specific language but that it was such a major show in Europe and the announcer sort of helps document the grand scope of the event.
USA CD, LP version

Also Sprach Zarathustra 2:13
The Planets: Saturn, The Bringer Of Old Age 3:48
The Rite Of Spring 3:12
Cranes In Their Nest 4:35
Daphnis And Chloe Suite No. 2 3:50
The Lark Ascending 7:15
Close Encounters Of The Third Kind 3:09
Violin Concerto No. 1 (Prokofiev) 7:44
Tristan Und Isolde 7:37
The Planets: Mars, Jupiter 7:09
Symphony No. 9 (Beethoven) 18:36
Firebird Suite 1:17

Japan CD version

The Unanswered Question 2:46
Also Sprach Zarathustra 2:19
Dawn Chorus 1:43
The Rite Of Spring 3:00
Cranes In The Nest 4:44
Daphnis And Chloe Suite No. 2 3:52
The Lark Ascending 7:06
Close Encounters Of The Third Kind 3:18
Violin Concerto No. 1 (Prokofiev) 7:44
Tristan Und Isolde7:42
Blast Off 2:30
Symphony No. 9 (Beethoven) 18:32
Firebird Suite 1:21
differing tracks are in this color and this color is for "new" pieces
---
Back to the Earth

1988 RCA 7717-2-RC (US CD), RK 87717 (Cassette) BVCC-2513 (Japan cd)

Live in New York. I was there and Tomita signed my program. I and one other person knew what he looked like.

Some new material, (some of which was done by his collaborators) many of the pieces have an acoustic soloist. He had surround sound and the performers were on boats that floated by. Tomita was in his Casio Pyramid hoisted high above the river by a crane. Unlike Linz, he doesn't seem to have played the finale live-- as far as I know all the synth was on tape with the soloists performing along live. It was free so Battery Park was packed solid with audience. It coincided with the Statue of Liberty Centennial year, I came there about 3 hours early, chose a great wall to sit on only to be kicked off so the press could sit on it. Fortunately I was kicked out early enough to get a front row standing spot. There I spotted Tomita and greeted him. He kindly gave me a signed program. The CD is shorter than the concert.

click on the photo to see the program book
---
Hansel und Gretel
(@)1993 VHS and Laserdisc BMG Japan
This is a recorded synth orchestration of a light 19th Century opera by Humperdink. The video version once available on VHS or Laser Disc with stereo tracks shows a live stage performance sung in Japanese with sets and costumes. Tomita's music is apparently played back from tape with the live singing being added onstage. You do not see Tomita or anyone perform on instruments, the video focuses on capturing the sung performance. Tomita creates a blend of orchestral sounding synths and samplers with occasionally more fanciful electronic highlights.
Out of print.
---
Kodo with Isao Tomita

Nasca Fantasy

1994 TriStar/Sony (USA) WK 67206/SRCL-3103 (CD) Japan release also

This one is not quite part of the main body of classical synth albums. It has a South American theme to it. The album showcases Kodo, a famous drum ensemble. (Which means Tomita plays a supporting role though he plays on and composes the tracks - other than one by Edmund Portena Zaldivar and Bachianas Brasileiras No.2 by Villa-Lobos) Tomita does synth-orchestral backings to Kodo. Some musicians from Peru also perform on ethnic instruments. The first new album in many years in the U.S. and no newer ones have received a U.S. release.

This album appears to still be available internationally and is usually found filed under "Kodo" in the world music section rather than "Tomita".

---
---
Bach Fantasy
1996 BMG cd: BVZC-601

All Bach interpretations. Tomita uses more analog synths than he has in years. Includes a CD-ROM partition showing his studio and past synth albums. 2 tracks are from previous albums. This remains Tomita's most recent classical syntheiszer album (Released in Japan only)
---
---
Best of Albums
---
Tomita's Greatest Hits

(*) RCALP 3037, ARL1-3439(Album) RCAK 3037/RCA 3439 (Cassette) RCAV5660 (CD) RCA 5660 (Unknown) RCA September, 1981
---
Tomita- A Voyage Through His Greatest Hits
(*) ARL1-4019 (U.S.LP)
---
A Tomita Sampler
Special DJ Copy for Programming
Isao Tomita & the Plasma Symphony Orchestra
(*) 1982 RCA lp: DJL1-4344 (US PROMO only)
Side a

Syncopated Clock (2:30)
On the Trail (3:25 )
The Sea Named Solaris (3:32)
Reverie (4:45)
Great Gate of Kiev (4:12 )

Side b

Mercury, the Winged Messenger (4:30 )
Bolero (4:33 )
Symphony No. 5 II: Allegro Marcato (3:22 )
Firebird Suite Finale (3:11)
The cover is the art from Grand Canyon Suite in monochrome and printed in blue (cyan) ink.
info on this release is from Gored Gelean. No rare tracks, this was obviously sent out in the U.S. to remind radio stations I presume that Tomita had a whole catalog of work available.
---
The Best of Tomita

(*) PD 89381 (CD) RCA U.S. 1984

The Best of Tomita Vol. 1

(*) BVCC-9396 (Japan cd)

The Best of Tomita Vol. 2

(*) BVCC-9397 (Japan cd)

How many Best Ofs does the guy need? Buy the real albums already! Apparently Syncopated Clock was only available on CD on these best ofs before 2004. The Star Wars theme is remixed on some of these remixes. The transitions between tracks are often altered also.
---
Space Walk: Impressions of an Astronaut (best of)
(*)PL 85037 (Album) PK 85037 (Cassette) RCA August, 1984

A repackaging of previously released material most likely aimed at the U.S. market. The tracks have new space inspired names. These are the same tracks. Don't be fooled by rumors this is an album you've missed. A not often seen CD exists. Maybe the intent was to get out some kind of CD compilation during the early days of CDs? Out of print.
---
The Cosmos of Isao Tomita

(*) 1999 BVCC-37296

is a Japanese best of the synth classical music album and is not to be confused with the well known 1978 album Cosmos. Or for that matter the Carl Sagan series Cosmos (which has an album with a track from Kosmos!) This one can be identified by a large "RCA Red Seal Best 100" logo at the bottom of the cover. This seems to be released around the time Tomita departed from BMG.
Different Dimensions

(*) 1997 BMG/Camden (UK)

A UK released Best Of album. The album contains no tracks by Holst. Perhaps they remain a problem in England so this compilation was created. The photo of course dates from early in his career.
---
---
Thanks to: John Breslin, Ben Ward, Keiko Iseki, Giles Duke
and Isao Tomita
Link to:
John Breslin and Ben Ward's Tomita Site
---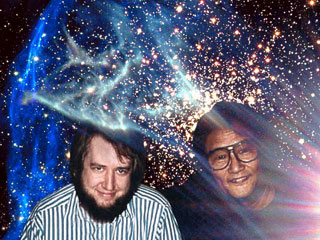 ---
BACK TO MAIN MENU
-> To my page on Tomita's own compositions and non-classical cover albums <-
---
Copyright Notice! Compilation, design, and layout of this web page is copyright 1999 Nicholas D. Kent. All rights are reserved by its individual trademark/copyright holders. This web page is a product of fan appreciation and is not intended to infringe upon properties held by its rightful owners. Any part of this web site may be duplicated and distributed to other networks and BBSs UNMODIFIED, with all ownership and copyright information intact. No portion of this web page (including but not limited to documents, images, and sound clips) may be sold in any way and is expressly forbidden. (Thanks to Kyong Il Lee for writing these lines.)