Isao Tomita
compiled by Nicholas D. Kent
email: ndkent "at" optonline.net
Last updated 05.11.11
(*) means that I don't own this album at all.
(@) means I've listened to it, but don't own a copy
John Breslin and Ben Ward have put together a big unofficial site in English: Tomita: Sound Creature
Nasu Fantasia is a very detailed fan site in Japanese
John Breslin has an English language board discussing Tomita at Boards.jp
Current USA cat #s are in this color.
---
Non-Classical Synth Albums
jump to Tomita's Classical Synth Albums
The albums highlighted in blue contain significant synthesizer material
---
---
(title in japanese) --TV Puppet series theme music compilation
late 1990s cd: Toshiba TOCT-9355
This is a wonderful compilation of original themes of numerous Japanese TV series featuring puppets (!) dating between 1956 and 1982, of interest here are 3 rarely heard Tomita themes from the '60s. Most of them seem taken directly from the title sequences off film or tape, not the original master recordings.
Spaceship Silica (1960) - the earliest Tomita theme I know of, this one is done with a childrens choir singing with a small orchestra and organ.
Milky Way Boy Rangers (1963) I'm guessing at the translation of this one, It's a puppet series produced by Osamu Tezuka, also children singing similarly though longer and a bigger production
Aerial City 008 (1969) wow! this one is wild, full of elaborate outer space sounds and filter sweeps and reverbs of a very identifiable Tomita style (though prior to his use of actual synths) all mixed in with a jazzy acoustic ensemble. It has a perky lead woman singer (? Nakayama) and pop style female backing chorus. Pretty good fidelity. (Better than the same track on the newer Tomita on NHK album)
Raymond Tucker, a big Tezuka fan tipped me off that there is a current DVD (Japan region protected) with a full eposode of all 3 shows plus behind the scenes documentary material called "NHK Puppet Cronicle Series vol. 3". I tracked down the cat# myself - NHK ASKB-1117
---
compilation
The Golden Age of Film Soundtracks
1995 King cd: KICS 2181

Part of a series including The Golden Age of TV Commercials, etc. This one has a 7 minute track from a 1964 movie about soldiers. Kind of somber. A classy collection of early 60s dramatic themes from various composers. Original recordings. Nothing crazy.
---
Jungle Taitei
Symphonic Poem

(Kimba the White Lion)

(*) 1966 Nippon Columbia LP CS7015, 1986 cd: Nippon Columbia 32C35-7528, (?)ELS-3044, it was remastered in 2001 (COCC-7306) and was also available on home video with special animated accompaniment

Tomita considers this his first album on his official discography. This is like a suite version for concert and album release. OUT OF PRINT
Jungle Taitei

late 60s, current cd: TOCT-10235

Superb music to Tezuka's beloved anime series. The bad news is this different from the above release is mono and the fidelity is poor. I don't know the history of this release but I suspect it's something the label put together and wasn't meant to be a proper soundtracl album.

22 tracks total This CD was released in 1998 as part of a series of Classic anime scores. Tomita's name is not prominantly on the case. Out of print.
(*)There was a different 1999 multi CD boxed set on the Bandai label of numerous raw cues from the series but it was withdrawn from sale for legal reasons soon after it was shipped. I presume it is quite rare but also absolutely does not have Tomita's approval over quality and track selection. (and is definitely OUT OF PRINT)
Jungle Taitei Hit Parade

1966 lp: KKS-21, 1978 LP reissue CS-7054, 2005 CD reissue COCX-33161

Reissued as volume 1 of the budget price limited run Animex Song Collection series.

This album collects the original songs from the series in stereo.
---
Black Lizard (+2 other Rampo related non-Tomita soundtracks)
95.8.2 VPCD-81101
A collection of 3 films based on the stories of Edogawa Rampo. I think the second soundtrack (not by Tomita) is from another fairly well known 'cult' film "Blind Beast" . Black Lizard was adapted for the screen by Yukio Mishima who infamously appears in the film as an unmoving manaquin/statue in a martial arts pose.
---
Mighty Jack (vol. 1)
1969 released in 1995 VAP cd: VPCD-81112

A TV adventure series about a flying submarine. Mono and from the master tapes. Not exactly Hi-Fi but listenable. There have been a lot of vintage SF/Fantasy releases of cues from the master tapes (as opposed to the "soundtrack album" style of longer pieces and "suites") recently. Tomita's name probably helps, but this was re-issued probably because this was a series produced by Tsuburaya Productions. Runs the gamut from Barry Grey style twang guitar hipness (he wrote for Gerry Anderson's puppet series like Thunderbirds and Singray that seem to have inspired this whole show to an unknown extent) to straight adventure soundtrack to cool jazz noir to tacky lounge! The booklet is thick with written information but not a single photo inside. OUT OF PRINT
Mighty Jack (vol. 2)
(*)1969 released in 1996 VAP

A Mighty Jack Volume 2 of this soundtrack came out in 1996 it seems to be out of print and I never saw a copy unlike Vol. 1 which I picked up.

I understand that the first and last episodes got re-edited and dubbed and passed off as a feature film for American TV called Mighty Jack. (Not to be confused with a competing pair of Toho 1960s features also Japanese and involving super submarines - Atdargon and Latitude Zero) HalloweenVince reports seeing cheap low quality DVDs of this edit in England.
---
Unbalance

(*) 1996 CD of late 1960s tracks VAP VPCD-81120

TV soundtrack. This was a Tsuburaya production. My understanding is it is this was originally a sort of X Files or Outer Limits type Japanese TV series that I guess went into production with 3 epsiodes prepared. Then the whole series got a serious 'makeover' before airing with a giant rather than human-sized monster focus and got renamed Ultra Q. The 3 Unbalance episodes which had been completed were apparently aired repackaged as Ultra Q episodes. As far as I know the rest of the Ultra Q series was not scored by Tomita but this disc entitled Unbalance contains his music. out of print
---
Captain Ultra
1996 SLC 2 cd: SLCS-5100-01

1960s TV series with astronauts and aliens. I can't find a date on this, but it's a mid 1960s recording. This one is pretty wacky. Wide mix of music. Sci-Fi music with electronic effects. Marches with singing too. many tracks included, mostly mono. I've seen a DVD set of this series. I pretty sure this has nothing to do with Ultraman, though the seemingly less related Unbalance is considered a direct ancestor of the Ultraman series because it was made by the same team. OUT OF PRINT
---
Ribon no Kishi (Princess Knight)

late 60s material compiled on TOCT-10404 (released in 1998)

A classic Tezuka anime series, slightly higher fidelity than the Jungle Emperor CD in the same series, 31 mono tracks, this was released in 1998 and Tomita's name is not clearly mentioned on the CD packaging (only in the fine print credits). Out of print.
---
EXPO'70 Multiplex Sounds For "Global Vision"

(*) 1970 Toshiba 7" 3ERS-260

The Nasu Fantasy website mentions this was a 7" EP of music Tomita composed for Expo '70. Not generally released

A little lacking in fidelity but a 3'57" version that sounds like it was rerecorded from vinyl is included on a 2002 compilation called Tea and Soft Rock (TOCT-10787)

Seen left is the recent compilation CD.
(this interior was not the building where Tomita's music was heard)

here is a page on the Toshiba IHI Pavilion where it was heard
---
Switched on Hit and Rock (OriginalJapanese Title)

(@) 72.05 SQ Quad LP: CBS SONY SOLL-4

Electric Samurai

Switched on Rock (UK title)

(@) 1974 LP released in the UK: CBS S 80353

Info in part from Carlos Serrano and Vasco Oliveira:
This is a 1972 cover album of pop tunes played on the Moog by Tomita collaborating with EIICHI NARISAWA. This seems to have been re-released some years later definitely in England and I think the U.S. retitled as Switched on Rock and with the act renamed Electric Samurai. It sounds like Tomita warming up his synth arrangement style here and is extremely amusing in a cheesy way. Its recognizably him but not quite "there" yet . Tunes by Lennon, Beatles, Elvis, Simon & Garfunkel, etc. It seems that the interest to release this album might have been spurred by the new Quadrophonic playback gear hitting the market just then. I've also found it interesting that the Japanese music biz seems to have gotten into synths with quite a delay. By say 1972 the novelty of Moog albums that had been all the rage in the U.S. around '68-'70 had been over a couple years, but I know of another "Moog cover" album out around this time in Japan and by 1973 for the first time small Japanese made synths were first being sold to the public, but this album of course uses the big modular Moog that Tomita is known for. No CD. Out of Print.

Be aware that there is a different U.S. issued album also called "Switched on Rock" that might cause confusion. Look for the band listed as Electric Samaurai.
---
Catastrophe 1999 (soundtrack)
1974 TAM lp: AX-8804, Victor cd:VICL-5080 out of Print

The synth orchestrations sound a little like Firebird. It's funny to hear the Tomita sound with rock guitar and drums in spots. The recording (I've got the CD) seems to have some technical flaws in a few spots. The soundtrack CD adds a second non-Tomita soundtrack The War In Space (1977), which has some synth effects. Japan only. This is a version consisting of two LP side length suites in stereo. Out of print.
Nostradam's Prophecy Catastrophe 1999

1996 VAP cd: VPCD-81173

This is a different mono version of the same soundtrack released in 1996. This version is longer and instead of duplicating the 1974 LP it contains 38 tracks of Tomita's music cues from the 1974 scoring sessions. This version is spotted easily from the other CD because the cover art is sideways in relation to the case and there are like 40 tracks instead of 2 LP side long tracks. (plus this version Includes the original single version in stereo) Japan only. Still available. Its recently popular in Japan to make collectors soundtrack reissues with the original session tapes rather than the suite style arrangements most people are used to. Neither version is on Tomita's current official discography but given his disapproval of the Jungle Taitei raw cue releases its unlikely he approves of this raw cue release (his approval of the suite based album is unknown though its not on lis official discography)

(*) 7" Single AT-1069 (1974)
the single, which is two themes in stereo (included on the current CD -VPCD-81173)
The (fairly costly) currently available 10 CD set Toho SFX Champion Festival (VPCD-81382) contains the contents of both CDs
This film was released in the U.S. as The Last Days of Planet Earth - there is a VHS release (*)
---
Misty Kid of Wind (Soundtrack)
(@) 1989 R32C-1152/JRD1-2778 (CD) RCA

Original soundtrack done with synths. A kind of playful sound. I'm sure it's by coincidence, but the themes on this score and Phillip Glass' later score to Candyman have a similar melody. Very digital but also very synth filled. OUT OF PRINT
---
Aoki Okami No Densetu
Legend of the Blue Wolf
Storm from the East (Soundtrack)
1992 RCA BVCF-2514 (CD)

This score is predominantly electronics and is some sort of Mongolian historical adventure. It won't disappoint Tomita fans! Released in Japan only.
---
Gakko (School soundtrack)
1993 RCA maxi cd: BVCF-9901

18.5 minutes. No english on the cover, it has a picture of a tree. A bit of synths (mostly the string section), acoustic lead instruments. Sentimental music and TV movie which spawned sequels, see below. Japan only.
Gakko I-III (soundtrack)
1998 RCA cd: BVCF-37001

While this seems to skip one of the tracks from the above it is a normal length album with music from all 3 movies in the series including the above minus a track. Its midline priced in Japan. Again no english on the cover, this one has a similar now older tree with high rise construction going on in back. Charming music though not synth oriented music.
---
Shin-Nihon-Kikou (soundtrack collecction)

1994 RCA cd: BVCF-1525 (Japan only)

Means A Traveler's Journal, which is a genre in Japanese literature and apparently a TV series title. Newly recorded by the Tokyo Symphony Orchestra. A retrospective of Tomita's film career. A few have melodies played on synths. A range of styles. Real interesting to get a feel for how he composes using orchestra on films. Includes Tezuka's Jungle Taitei and Princess Knight. Nothing much from an electronic standpoint though you hear synths, this album is notable for getting to know Tomita's film music. 16 pieces, many seem to be from historical dramas.

(*) Two CD3 singles are related to this album. I've only seen one, they do not seem to remain available and own neither
---
The First Emperor (Soundtrack)
1994 WEA WPC6-8061 (CD)

Tomita is top billed on thes album as Musical Director but not as composer. Yuichi Mizusawa receives composition and keyboards credit. Huge and impressive sound. Virtual acoustics like realistic reverb and physical modeled instrumets likt the Yamaha VL1 were used. Some vocals and mostly synths and samples. The main theme certainly sounds of Tomita. A bit too many slow and huge percussive sounds. About historical China. Seems to be a documentary. This album is not on Tomita's official discography. OUT OF PRINT
---
Jungle Emperor Leo
97.7.24 BMG cd: BVCH-1529

This is a mostly orchestral score to an animated film.This is a newly made feature animation which is a sequel to the Tezuka's Kimba the White Lion (Jungle Taitei) which Tomita also scored decades earlier. There are some synth sounds and drum machine beats. Tomita supervised this recording and the famous Tomita logo is placed in the covers top right corner. So this is an album Tomita considers one of his integral releases. Out of print though quite common.
---
The Tale Of Genji

1999 Pioneer PICW-1024

This one has English and an historic illustration on the cover. This is a release of an original suite of 9 movements for orchestra with synths and traditional Japanese sounds. This is a limited edition live recording from late 1998. There were said to be only 1000 made, which may be correct. On the other hand I believe a lot of Japanese classical albums only have pressings that size.

Apparently Tomita thought this performance was to be a LaserDisc only release of a concert hall performance on video but Pioneer decided to make a CD of it in addition. He himself had plans to and eventually did release an album version of studio quality. Fine rich music though definitely not a synth album. This version is not on Tomita's official discography. I have no further info or confirmation on a laser disc version though the CD seems to have circulated a bit outside Japan. I know more people with the just this earlier live version than the studio version (which is considered superior by Tomita)

Out of print but not incredibly rare.
THE TALE OF GENJI, SYMPHONIC FANTASY
Genji monogatari genso koukyoemaki

2000 DENON COCQ-83482,
re-mastered and reissued in 2004 on CD and DVD-A Surround (COAD-22)

This version is a studio recording with the London Philharmonic that Tomita made for album release. Issues of performance quality and mixing of live and electronic sounds are solved to Tomita's satisfaction.
---
21 seiki e no densetsushi Shigeo Nagashima (soundtrack)
00.11.29 ZMCZ-657
Orchestral soundtrack about a famous baseball player. The album includes several foldout pages of a reproduction of the handwritten conductor's score. Rich sound with hints of nostalgia and passages of triumph. OUT OF PRINT
---
Sennen no Koi - Hikaru Genji Monogatari (soundtrack)
01.12.08 COCQ-83572
A seemingly out of print soundtrack to an historical drama, this album contains mostly synth playing and a few traditional Japanese instruments & vocals. It has a few of the sounds Tomita fans will find familiar and even has some almost pop electronic beats later on
The album has Japanese text only on the cover and features a girl, woman and man in traditional costume on the cover.
online soundtrack preview video
---
Tokyo Disney Sea
Aquasphere Theme Music
02.03.20 Avex/Disney Records AVCW 12269

Tomita's name is only in small print as the final thing mentioned on the obi but he is the composer of this mini album. The CD is in a regular clear case with no tray card and the picture disc serving as the back artwork. The inside has a page of notes by Tomita in Japanese and all the credits just in english. 2 tracks of about 14 minutes each. One for daytime play in the park, one for night with a probable connotation that the day track = arrival at the park and the night one = departure. They seem to be recorded to seemlessly loop to their own beginning. The Day theme track on the CD gets through the openning few bars a second time then fades out kind of fast and mid passage which is kind of abrupt sounding. The night music seems to fade and thin out the arrangement so the presumed looped nature sounds far less obvious. From the cover it appears the aquasphere is a large globe sculpture in a central fountain surrounded by a plaza. I guess the length was determined around the average stay in the area and being long enough that the average person won't realize they repeat every 14 minutes.
Day credits Tomita as "Composer, Synthesizer Performance Programmer, Mixdown" and a gives an engineering credit another person. Night credits Tomita as "Composer, Electric Performer and Arranger" Then below is the credit "Recorded in London, Orchestra: London Philharmonic Orchestra, Conductor: David Firman" and some further support staff credits.

Day is clearly a very tight and large real orchestra, the style is clearly recognizable if you know Tomita's orchestra film work. There are some light hearted Disney style moments along with bold dramatic big orchestra sounds, Its a lot of shortish passages of different emotions and theme and variations type links with smooth complete segues between the pasages. There are some more dangerous sounding parts with the orchestra and percussion section making big sweeps for waves. I don't know if its because of the looped nature but the openning is very strange for orchestral recordings, the first few bars are panned full right then the counter melody comes in several seconds later on the left. There is a lot of stereo separation but no where else to that extreme.
The Night music seems to be mostly sample based synths, theres a harp melody that sound darn real so it might be an actual harp, In general its extremely real acoustic sounding though some instruments, mainly becaue of filtering and reverb definitely can't be real. Then the first "Tomita style" timbre comes in, a slightly spacey flute. Its somewhat pastoral so its kind of relaxed but uptempo so it's not reminding anyone about being tired. A lot of the synthesized string work both harks back to his older sound but perhaps highlights weaknesses in not state of the art samples too. But usually his blend of many supporting melodies keeps things moving and any not complimentary fakeness from showing. I guess I have to listen in headphones to figure out to what extent if any acoustic performances he blended in. Like heaing a few weaker samples makes one suspect that the dead on stuff is acoustic not sampled. Its quite satisfying overall as long as you aren't expecting outer space and can tolerate lighter though intricate and fanciful music.
---
Tomita on NHK
2003 Denon COCQ-83613
Original soundtrack recordings of 35 themes dating between 1956 and 2003. The first 20 are themes. There is a short one that is all Moog. Some others have prominent electronics but in general are orchestral and fairly short. As a minor qualm I found a few of them to have abrupt fadeouts at the end and the Spaceship Silica one seems like a pretty badly damaged optical recording while the same track and the cool Aerial City 008 track were both presented from original recordings in better fidelity on a Toshiba puppet anthology CD a few years ago. Overall it is a facinating collection which is more varried than the mid 90s re-recorded collection Shin Nihon Kikou. Following the 20 themes are 6 longer tracks of music from what might be forestry? or nature films? Then there seems to be 7 tracks from a 2002 series of various ethnic stylings of orchestral music. Finally a brand new piece with a children's choir and then a newer reprise of the Shin Nihon Kikou theme that began the album in a vintage recording.
---
Tasogare Seibi (soundtrack)
Twilight Samaurai
03.5.21 FLME/For Life cd: FLCF-3963
A short length soundtrack album of an Academy Award nominated (Best Foreign Language Film) which won the Japanese Academy Award for best score.
---
KAKUSHI KEN ONI NO TSUME (soundtrack)

Hidden Sword, Demon's Claw

04.10.20 cd: COCQ-83849

A new film score working again with the director of Twilight Samaurai . The CD includes a new midlength original orchestra piece, what seems to be all the contents of the Twilight Samaurai soundtrack EP and this new soundtrack. Unlinke Twilight Samaurai the new material seems to be all orchestral with no synths.
---
---
Thanks to: John Breslin, Ben Ward, Keiko Iseki, Giles Duke
and Isao Tomita
Link to:
John Breslin and Ben Ward's Tomita Site
---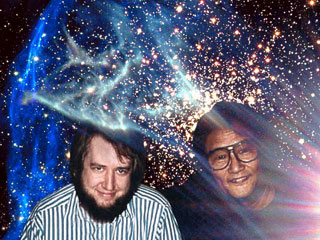 ---
BACK TO MAIN MENU
Jump to Tomita's Classical Synth Albums
---
Copyright Notice! Compilation, design, and layout of this web page is copyright 1999 Nicholas D. Kent. All rights are reserved by its individual trademark/copyright holders. This web page is a product of fan appreciation and is not intended to infringe upon properties held by its rightful owners. Any part of this web site may be duplicated and distributed to other networks and BBSs UNMODIFIED, with all ownership and copyright information intact. No portion of this web page (including but not limited to documents, images, and sound clips) may be sold in any way and is expressly forbidden. (Thanks to Kyong Il Lee for writing these lines.)