Yann Tomita, Astro Age Steel Orchestra, The Doopees
compiled by Nicholas D. Kent
email: ndkent "at" optonline.net
Last updated 06.1.14
Thanks to Ron Kane, Rodney Alan Greenblat
(*) means I don't own this album and never listened to it
(@) means I've listened to this album but don't own it
---
Yann Tomita was involved with Water Melon. One of the key figures in Japanese Exotica, he had some bands with very limited releases prior to the ones I list. The Doopees seem to be a conceptual pop group dealing with the subject of extreme cuteness. He also produced part of Martin Denny's final solo album Exotica 90 and an Havana Exotica album.
A bunch of new projects are being released in 2006 after years of seeming silence.
---
---
Yann Tomita
Music for Astro Age
1992 2 cd: Sony SRCS 6526-7

Before this album, besides Water Melon, Yann Tomita played in Tiny Exotica Boys and Rude Flower. Ron Kane and I suspect these bands may have only released albums privately

Space age exotica with steel drums and electronics. Subtitled World In Shadow Some nice stuff but a bit too long in many places. You have to really like steel drums to listen to it in one go. Yann Tomita says steel pans sound the most like outer space.
---
Yann Tomita

Magic Music of the Spheres

(*) 1992 private edition

Yann Tomita

How Time Passes (live)

(*) 1994 private edition
An Adventure of Inevitable Chance

How Tiime Passes

00.6.25 Blues Interactions cd: ASL ASL-5809

This is one of YT's infrequent live concerts. In this case its from 1993. Yumiko Ohno and Chica Ogawa are in the band. Conceptual live electronics with additional instruments. A second "disc", Magic Music of the Spheres ~ Heartbeat is also included. Its actually a conceptual piece and not a playable CD. A friend complained that he wound up having his postage calculated higher because of the concept packaging. You do get a second booklet with it + a thicker case.
---
Astro Age Steel Orchestra

Happy Living

1994 Sony SRCS 7415

This album introduces the Doopees. Great Trinidad accented spoken running commentary about steel pans. Far more consistant and amusing than Music for Astro Age. Yumiko Ohno from Buffalo Daughter and Havana Exotica is one of the Astro Age Steel Orchestra. Some exquisite steel drum ensemble playing and some synths too (unlike the last one with some avant abstractions, the Steel Drums are truely listenable throughout).
Doopees

Doopee Time

1995 For Life cd: FLCF-3594

CUTE MUSIC is keep your healthy, mind clear.

All in English. VERY VERY funny.
---
Doopees

Dooits!

1996 CD5 For life cd: FLCF-3635

4 track EP. Starts off with a similar version of Doopee Time from the last album, includes some new material including a funny spoken promo on what kind of music to expect from the Doopees (but aside from an appearance on Music for Living Sound there havn't been more releases)
---
Yann Tomita

Music for Living Sound

Cool Sounds From Real Life

98.5.21 For Life cd(3CDs+1ROM): FLCF-3715

Massive set of 3 CDs 1 CD-ROM and a thick booklet. Almost all of it in English. A real art piece but real hard to listen to as an album. Alternates with extreme contrast between field recordings of sounds, audio performance art and experiments, interviews and some Doopee lounge slickness. Definitely interesting but not something one can passively listen to at all. Tomita did the ROM mostly himself, so its not quite polished, but shows off his personality and contains quicktime concert footage, videos, piles of info. A CD highlight is a "duet" with Grandmaster Flash playing while his brainwaves are operating Tomita's synth. He does a conceptual piece with the original monster 1950s RCA Synthesizer which is either amusing or frusterating (probably both). Arthur Lyman talks but does not play also.
Dr. Yann and Grandmaster Flash
Vinyl Beat of Two Turntables with Cybernetics and Bio-Feedback
(*)98? For Life 12" FLJF-9523 limited ed.
---
BOREDOMS

SUPER ROOTS 8

(*) WQJB-1017_12", cd:WPC6-10011

Jungle Taitei
Jungle Taitei (DJ Let's TRY & D.I.Y.-Drum Machine Mix) remixed by EYE
Jungle Taitei (Laughter Robot's Hemp Mix) remixed by Yann Tomita

This is a remix from the Atom Kids tribute project. Jungle Taitei (a.k.a. Kimba the White Lion) is probably the most famous orchestral soundtrack theme by Isao Tomita
---
Yann Tomita's TSUNAMI SOUND CONSTRUCTIONS PRESENTS
The Series of Locals
The Music of PARDON KIMURA
99.9.25 Blues Interactions/Bleach YTPR-5805
Yann Tomita is the producer for an album of Pardon Kimura's compositions. He works in a tropical style with experimental sound collage, music and narration quite in keeping with what Tomita is up to. suGar from Buffalo Daughter plays guitar on 2 tracks.
For some time I've been suspicious that Pardon Kimura might be Yann Tomita working under a different name but I've seen enough photos that he's someone else, and suGar mentioned him and not Yann Tomita when I talked with her years back right after this album came out.
---
no definitive Yann Tomita involvement on these --
Pardon Kimura
OCEAN SURFER COOL DAD BUILDING SHOP SURFBOARDS
(*) 01.07.25 IDCH-1003
STEP RIGHT UP REMIXES
(*) 01/07/25 HCS-005
---
Pardon Kimura
FROZEN HAWAII
-bonjour hawaii remixes seasoning by Pardon Kimura
(*) 01/12/10 BONCD-006
---
Pardon Kimura
Silly Wake
(*) 04/03/05 TERCD-002

---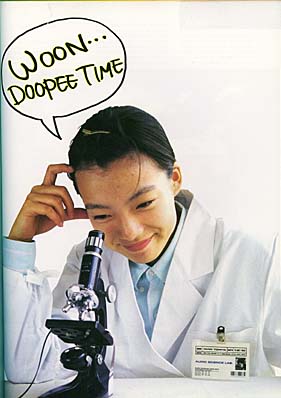 ---
BACK TO MAIN MENU
---
Copyright Notice! Compilation, design, and layout of this web page is copyright 1997 Nicholas D. Kent. All rights are reserved by its individual trademark/copyright holders. This web page is a product of fan appreciation and is not intended to infringe upon properties held by its rightful owners. Any part of this web site may be duplicated and distributed to other networks and BBSs UNMODIFIED, with all ownership and copyright information intact. No portion of this web page (including but not limited to documents, images, and sound clips) may be sold in any way and is expressly forbidden. (Thanks to Kyong Il Lee for writing these lines.)