Plastics
compiled by Nicholas D. Kent
email: ndkent "at" optonline.net
Last updated 05.2.14
Ron Kane provided substantial info for this page.
He also wrote a Nakanishi profile published in Giant Robot Magazine #4
JN: is info supplied by Jay Novello
Thanks to Terry Green, Rodney Alan Greenblat , Buggle
Jun Okamoto (JO) has a web page with info on a bunch of interesting artists including the Plastics.
(*) means I don't own this album and never listened to it
(@) means I've listened to this album but don't own it
Official Sites:
TYCOON TO$H's SONIC FORCE label
---
Probably a short overview is in order. The Plastics were a short lived band (1979-81 professionally, though the formed earlier ) whose members (for their prime recording era)were Chica Sato (vox), Toshio Nakanishi (vox/guitar/perc), Hajime Tachibana (vox/guitar), Masahide Sakuma (synth/production) and Takemi Shima (rhythm). Often shortening their names to just chica, toshi, hajime, ma-chan and shima.
The legend though its probably retold so many times its not 100% accurate goes something like Toshi? was doing designs for a book being made for Talking Heads' Japanese tour and slipped David Byrne their demo tape. David Byrne was very amused and sent it to the B-52's manager since their style was rather similar and he promptly signed on to be their manager too. They played shows in NYC and got an international deal with Island Records before internal conflicts forced them to break up.
After the split in '81,Tachibana had a solo career and often just persued graphic design.Toshi and Chica became somewhat U.K. based, were a couple and married for quite some time and formed Melon and Water Melon (Water Melon did exotica tunes during the same period in Japan [1982-] with a different lineup than Melon), Water Melon went dormant for years then recorded some new ones in the UK recently with a different membership, whereas Melon continued on a few years then went dormant) Included at times as members (but not necessarily both bands as full time members) were Yann Tomita, who is well known for making exotica style albums. Gota Yashiki (home page) on drums, who has a high profile career in the UK (Simply Red, Sinead O'Connor, Bomb the Bass). KUDO, a DJ, also joined and continues to work with Toshi on later projects like Love T.K.O. and Skylab. Chica seems to have split up with Toshi by the late 90s and hasn't done musical projects that we know about in quite a while.
The Plastics reunited around 1989 for some 10th anniversary live shows though no commercial recordings came out. For their 20th there was a tribute album in which Toshi and Hajime participated.
In 2004 Toshi and Maki Nomiya (ex-Pizzicato Five) formed a group Plastic Sex. They released an album in 7/2005. More info when I get a hold of one.
Watch Out! --There is a country fiddle (american style) player who has a bunch of CDs named Toshiro Nakanishi (or some very similar name) He is someone else with no connection to the Plastics. Toshi of the Plastics does not release albums with his full name (except for a rare cassette mentioned below). Tycoon To$h is one of his more popular stage names.
---
Plastics
Welcome Plastics
1980.1.21 Invitation lp: VIH-6065, cd: VICL-2013, current VICL-41148

Top secret man. Great! Very staccato, much like the early B-52s. Fast and funny Technopop stuff mostly in English.

"I developed a suspicius rash on my arm after listening to The Plastics."--Bowie J. Poag
Top Secret Man
Digital Watch
Copy
I Am Plastic
I Wanna Be Plastic
Can I Help Me
Too Much Information
Welcome Plastics
I Love You Oh No!
Robot
Delicious
Last Train to Clarkesville (Monkees cover)
Deluxe
Complex
Welcome Plastics, the title song was written by Kazumi Yasui and Tadao Inoue. and was originally called Welcome Beetles. Paul Rymer has figured out that Welcome Beetles was played at the Budokan immediately prior to the
Beatles taking the stage in 1966. He mentions that the original is very close to the Plastics take on it. Aside from the cover songs, toshi, chica and hajime in different combos wrote the material.
Copy / Robot
(*) 1979? Rough Trade 7" (UK) RT 030
Paul Rymer writes: Both are definitely different recordings, I have a copy of the 7". Both are on the new compilation CD due out 7/2005 in Japan.
Top Secret Man/Delicious
(*) 1980.1.21 single Invitation
---
Plastics
Origato Plastico
1980.9.21 Invitation lp: VIH-28013 cd: VICL-2014, VICL-41149

More great material.
Ignore
Diamond Head
No Good
Good
Back to Wigtown
Cards
Peace
Dance in the Metal
Interior
Park / Eight Days a Week (Beatles cover)
Desolate
synth spotting info: ma-chan plays Roland SH-1, Prophet 5, Jupiter 4,
Good / Pate
(*)1980.6.21 single Invitation 7"
Pate, a non-album b-side was included on the 2004 CD various artists compilation TECHNO POP (BMG # BVC2-31038)
Peace/Desolate
(*) 1980 Invitation 7" VIHX-151
---

Plastics
Welcome Back Plastics
1981.3.5 Invitation cd: VICL-2050, Island lp: 203 435-320 (Ger), ILPS 9627 (US & UK)

Overseas it's usually called just Plastics. Newly recorded versions of songs from the first 2 albums re-recorded for Island. Faster and tighter. I always thought it was surprising Island would let them re-record Cards without changing the lyrics.
Delicious
Diamond Head
Peace
Ignore
Cards
Top Secret Man
Copy
Good
Park
Robot
Dimond Head /Peace
(*)1981 Island (UK) flexi (promo) NIP 1
Pate / Last Train to Clarksville
(*)1981 Island (UK) flexi NIP 2
JN: My UK copy of "Welcome Back Plastics" contains a bonus, gorgeous, full-color silkscreened flexidisc featuring "Pate" and "Last Train to Clarksville". It carries a catalog number of NIP 2. Also, the LP comes with a fake Obi -- it doesn't wrap all the way around the LP sleeve, but is worth it for the monochrome-but-larger picture of Chica that's used on the flexi. Your note in the discography about "Cards" made me laugh, because I remember blasting side 1 of the album to a store full of mall shoppers at Christmastime at the record store where I worked at the time (and for many years before and after, unfortunately).
Last Train to Clarksville
(*)1981 Island (UK) 7" 1-sided limited edition NIP 4
Paul Rynmer: This is the same "Welcome Back Plastics" era recording that was on the flexi disc. It's a bit punchier than the original version from
"Welcome Plastics".
NK: I would guess that the Plastics more or less duplicated all their catalog somewhat uptempo for Island and since Last Train to Clarksville presumably involved royalties to the original songwriters it was moved to a single.
So what's NIP 3 ?
DIAMOND HEAD
(*)1981 ISLAND 12" promo PRO-A-955.
DIAMOND HEAD (LONG VERSION 3:52)
ROBOT (3:30)
TOP SECRET MAN (2:32)
PEACE (3:06)
---

Plastics
Forever Plastico (best of)
1993 Victor/Speedstar cd: VICL-22010

Can you call this a "best of" when it contains an entire album intact (Welcome Plastics)? For some unknown reason the first 2 albums were not out on CD and this came out instead, which also comtains a chunk of Origato Plastico (and none of the Island Records remakes). The individual albums are finally out on CD now. This has newly designed hi-tech cover art by Tachibana. Nothing is unique to this compilation. Probably out of print.
Top Secret Man
Digital Watch
Copy
I am Plastic
I Wanna Be Plastic
Can I Help Me
Too Much Information
Welcome Plastics
I Love You Oh No!
Robot
Delicious
Last Train to Clarkesville
Deluxe
Complex
Ignore
No Good
Good
Peace
Park / Eight Days a Week
Desolate
---
Plastics
All Across The U.S.A. 80 Live
97.11.21 For Life cd: VICL-60157, with video (limited) VIZL-28, LP VIJL-60012

Good recordings of the Plastic's live. A big revelation is a lengthy instrumental solo in the middle of Robot. Lots of music and even flubs.

Hear an American audience member yell out "We want Pink Lady"

Some early limited edition copies included a short videotape for 200 yen extra.. The LP has some collectable difference to annoy also.

Toshi created an either funny or mean cover with 5 models, some not even Japanese dressed and styled exactly like the band.
---
They are on the Snakeman Show self titled album (Alfa lp: ALR-28009) perfoming billed as The Crap Heads.
---
PLASTICS CHILDREN
Welcome to Plastic World
99.4 Sony/Epic ESCB 1979 (cute cat #)
a tribute cover CD with a good crew
Dimond Head - SPOOZYS
Top Secret Man - Yukihiro Fukutomi
Robot - Yoshinori Sunahara
Cards - Buffalo Daughter
I Am Plastic - Hajime Tachibana and Low Powers
Cards - Tokyo Ska Paradise Orchestra
Welcome Plastics - Fantastic Plastic Machine
Good - Pizzicato Five
Delicious - Motocompo
Desolate - Tosh 'Posh' Skylab
Has one of the most minimalist CD covers ever (but contains a flyer with all lyrics and personel). The SPOOZYS do a some serious surf guitar and get the Chica and Toshi vocal inflections down perfect. Yukihiro Fukutomi best known as a DJ has Laila France (Momus' Asian-Parisian find) doing the vocals. Yoshinori Sunahara (ex-Denki Groove) does Kraftwerk-ish things. Low Powers (Tachibana's 90s band) is no longer women, but still does straight forward rock. The P5 track is similar or the same as their previously released cover version (featuring Tachibana on guitar here- actually he's worked with Buffalo Daughter and Spoozys too on other releases). Tosh 'Posh' Skylab is a new (Spicy?) name for Toshi solo, he sounds desolate like the song's name. The other 3 Plastics don't participate.
---
Plastics
(*) 04.02.24 DVD DEBP-13020
Live DVD from the 80s. Recently issued but I'm not seeing it available anymore a year after release.
---
---
Plastics Sex
new band who played in October 2004, Maki Nomiya (ex Pizzicato Five) +Toshi Nakanishi. Hajime Tachibana and possibly other ex-memebers seem to be guests. Album due 2005.7
---
---
Melon
The act Toshi formed with Chica after the Plastics broke up. Toshi mentioned he is reviving this band soon, but without other original members. Not to be confused with Water Melon - see below.
---
Snakeman Show
Sensou Hantai
(*) 1981 Alfa lp: ALR-28027

Snakeman Show was a comedy project produced by Moichi Kuwahara. They used original music by several well known acts.

JN: Melon does the ubiquitous Honey Dew and I Will Call You (and Other Famous Last Words). But these appear to be different versions --they feature Kate, Cindy and Keith from the B-52's and Adrian Belew, who are not on the original Do You Like Japan? album.

Another Snakeman show appearance is on YANAKOMARITAI (ALCA-9084/5) (*)
---
Melon
(@)1982 Winter Issue TRA No. 2 cassette, Four tracks.

cassette included in the magazine. similar in style to the material on the following Do you like Japan.
---
Melon
Do You Like Japan?
(@) 1982 Alfa lp: ALCA-19, reissued 2005 by SMH

This was their first full length album. Guests are Tsuchiya, Japan, Takahashi, Hosono (his stunning funk bass stands out). All sorts of styles, very different from the Plastics. The original CD was said to be mastered poorly. Many but not all tracks are on Shinjiku Blade Runner
original release

1. Do You Like Japan?
2. Optimistic Depression (O.D.)
3. Honey Dew
4. Song OF Apollo
5. I Will Call You
6. Million Years Picnic
7. (Don't Worry About) After Death
8. Nevada
9. Final News

reissue

1. Do You Like Japan?
2. O.D. (Optimistic Depression)
3. Honey Dew
4. Song Of Apollo
5. I Will Call You (& Other Famous Last Words)
6. Million Years Picnic
7. Don't Worry About After Death (Shaka Shaka Nippon)
8. Neutron Nevada Never Say Die
9. Final News
10. Honey Dew
11. Do You Like Japan? (By Water Melon)
---

Melon
P.J. / Eddie Spaghetti
(@)1982 7" Alfa ALR-760

P.J. stands for Perky Jean, a line of cosmetics.

is actually O. D. (Optimistic Depression), the second song on Do You Like Japan?, with different lyrics. (info: JN) included on Shinjiku Bladerunner
---
Snakeman Show Presents
Disco Mix Melon and the Exotic Sounds of Watermelon Group
at Pithecan Thropus Erectus
1983 Alfa cd: ALCA-18, ALCA-9080
reissued 2003 as MHCL-326 Pithecanthropus No Gyakushu filed under SNAKEMAN SHOW as the artist
one side Melon ("disco") one side Watermelon (exotica). Plenty of comedy numbers on the first half, often in English. The second side is exotica with a Nino Rota theme from Fellini's Casanova (the movie scene depicts sex with a mechanical puppet) plus a couple Les Baxter numbers popularized by Denny. "Fly Me To The Moon" has lyrics beeped out. This album is similar in concept to YMO's "X00 Multiplies" . The LP is shorter in length than the cassette. The CD uses the longer cassette version edit list.
---

Melon
Serious Japanese
(*)1985? 12" CBS/Sony 12AP 3056
Tokyo Mix
San Francisco Mix
Tokyo Club Mix
Kudo joins
---
Melon

Deep Cut

1987 CBS/Sony cd: 32DP 761, Epic UK lp: EPC 450513.2

Melon lineup: Toshi, Chica, Kudo, Gota. London recorded. Fantastic album in a sort of Blade Runner in Hawaii style. All English lyrics. Includes a new version of Quiet Village.
Hardcore Hawaiian
(*)1987 12" CBS/Sony 12AP 3309
Hard Core Hawaiian (Def Jam Mix) c/w Hawaiian Break (Def Jam Mix) / Hard Core Hawaiian (Stuupid! 4trax Mix)
Funkasia (6:00) / Only Tonight (5:56),
(*)1987 CBS (UK) 12": MELON T1.
The Gate of Japonesia
(*) 1987 7"
---
Melon
Deep Cut Remix
1992 CBS/Sony cd: SRCL-2516

Towa Tei, Bomb the Bass, Toshi, Kudo, Yann Tomita, Howie B, Satoshi Tomiie, Fujiwara & D.M.X.

The full album remixed. This seems to be more of a remake than a remix. For example Toshi seems to be laying down new vocals. Not much Chica :(

A music video version of the album was also released.
---
Melon

Shinjuku Bladerunner (compilation)

97 Alfa cd: ALCA-5153 , reissued 2005

Includes several obscure tracks on CD for the first time. This is all compiled from their earlier Alfa and TRA and homework releases

Both the CD and LP edition are out of print

Honey Dew
P.J.
Eddie Spachetti
I Will Call You
Do the Pithecan-Happy Age
Corazon de Melon
Final News
Terimakashe
Fun Fun
Communication Breakdown
Do You Like Japan?
Theme from Melon




also contains a hidden backwards instrumental + the old and still infamous topless Chika photo appears on the cover

Melon

Terimakashe

(*) 97/4 12" Alfa MEL-1

Side 1

Terimakashe
Fun Fun
Communication Breakdown

Side 2

Theme from Melon
P.J.
Eddie Spaghetti

limited ed. & seldom seen 12" EP version

Ron Kane: (looks like it was pressed in the US, no printed cover, only a white sleeve with a sticker with titles) These 6 tracks were all that was on the advance cassette. When Shinjuku Bladerunner arrived, it was a surprise to me (as it had songs not on advance cassette) (it adds "Do You like Japan?" songs, ...and the TRA cassette sing Corazon de melon etc).
---
Water Melon
sort of a side project to Melon. With different members.
They play Exotica. See my Yann Tomita page for a member's solo projects.
---

Snakeman Show Presents
Disco Mix Melon and the Exotic Sounds of Watermelon Group
---
Water Melon Group

Cool Music

1984 Alfa lp: 28060, cd:ALCA9168 , reissued 2005

The group is Nakanishi, Yann Tomita, Seiichi Takahashi, Vagabond Suzuki, Gota Yashiki. Chica on one track. Includes 2 Les Baxter pieces and Never On Sunday with naughty lyrics. (I understand the song first appeared in was a 1960s sex comedy - though popular films and songs back then couldn't have gotten away with that language) Exotica in the Technopop style.
---
Water Melon
Out Of Body Experience
97.4.18 File cd: MFCD-055 lp: MFAD-060

New material. The band is Andrew Hale, K.U.D.O., Toshio Nakanishi. Gota appears on 1 track. Ron Kane wrote the album notes. Rich exotica ambient stuff.
Out of Body Sessions

97.7.26 File/Major Force MFCD-064 lp:MFAD-62

remixes by Stock Hausen & Walkman, Silver Apples and the standout, a string section arrangement by Everton Nelson (Sakamoto's 1996 collaborator). Gear spotters will enjoy the the coveted and ancient Fairchild 670 on the back cover. I doubt they are using it since the photo comes from a book or ad.
---
Water Melon
Field Trip
(@)99.5.29 Major Force/File cd MFCD-067
Now the lineup is just Hale (Ando) and Nakanishi (Tosh)+ guests. Lots of vocal contributions from Yuka Ikushima who sounds slightly Akiko Yano-ish. Some guests are KUDO and Tim Simmenon (Bomb the Bass)
RUTA DE EVACUACION
99.9.30 Major Force/File cd MFCD-068
contains some live tracks from a show called TYCOON TOSH CIRCUS and some remixes of Field Trip
---

Toshio Nakanishi
Collaborated on the Plastics. The main force behind Melon, Water Melon and plenty more acts. Married to Chica but has since split up.
TYCOON TO$H KINGDOM (in Japanese)
He has a new label with an official site SONIC FORCE (English & Japanese)
---
He did a pile of releases under all sorts of names. Here are some I don't have. (*)
as himself
1983 Homework TRA Project cas: TRA-503 - (@) 12 demos limited ed. Melon style. This is quite rare and came with a magazine. CD reissue in 2005
Homework 2 - private release -apparently given to some friends but never released.
as Tycoon To$h & Terminator Troops (hardcore rap)
1989 China Syndrome/Greenhouse Effect File lp: 15MF014
other related Major Force acts
1990 Toshio Nakanishi presents Gorgeous Girls Major Force cd: 20MF-024D
SILVER ARKS / CLEOPATRA & NOAHSARK (20MF-51)
1988 D.J.Mix Hiroshi/K.U.D.O./DJ MILO 3 track 12" Major Force 10MF-002
One promininant remix he worked on was PRMX, a Puffy(amiyumi) remix
---
compilation
Major Force Compact Vol. 1
1989 Major Force cd: 28F010D

Compilation of tracks includes Tycoon To$h & Terminator Troops, Hiroshi + K.U.D.O. featuring D.J.Milo from London, The Orchids (Chica is a member), Tiny Panx (Kan Takagi, Hiroshi Fujiwara)

Lyrics from Guess What?:
TO$H on the mic - I won't smell - 'cause I wear Channel

Has some amusing moments including Copy '88, an update of the Plastics song Copy.

(*)1990 Major Force Compact Vol 2 Major Force cd: 28F019D
---
Major Force West
'93-'97
99.11.8 Mo'Wax (UK)
from the press release: Major Force West 93-97 tidies some of this prolific activity into a single compilation of essential beats and wild sounds. Some of the music was recorded in the legendary Major Force bunker in Mo' Wax's Mortimer Street offices, while other tracks date from a session at Mario Caldato's House Of Hits which took place in late '95, and which included contributions from "Money" Mark Nishita. In the words of Tycoon Tosh himself : "this album's idea was like electronic sounds and heavy breakbeats. John Cage, Stockhausen, Perrey and Kingsley - only funky. But it ended up with some Indian or Oriental spice on top, very Pink Floyd of the 90s. I was listening to Van Dyke Parks and Pet Sounds, Silver Apples and obscure Ry Cooder records - result is very fucked up ... weird sounds."
Pulsing Kudo & Goldsworthy
Heavy Loaded Head Major Force West Productions
Circling Around Major Force West Productions
Mugen - In The Morning Major Force West E.M.S. Orchestra
India 2000 Major Force West E.M.S. Orchestra
Cup Of Tea Major Force West E.M.S. Orchestra
Here Comes The Funky Monkey Major Force West E.M.S. Orchestra
America 2000 Major Force West E.M.S. Orchestra
Theremin Beat Major Force West Productions
Sonic Scale For Percussion No. 12 Major Force West Productions
Sonic Scale For Percussion No. 113 Major Force West Productions
Soup Or Salad Goldsworthy & Nishita
Abstract Soul Kudo, Goldsworthy & Nishita
May The Force Be With You Kan Takagi
Mugen - In The Morning (Reprise) Major Force West E.M.S. Orchestra
quite worthwhile
many thanks to Chris Sharp
---

Group of Gods
Group of Gods
1992 Down 2 Earth/Major Force cd: 23MF037D

A different Toshi led Exotica project, recorded in Indonesia. Nice. Some tracks are pretty strait, though some get unusual with Kudo beats.
---
Love T.K.O.
The 1st Kiss
(*) 1991 Major Force 20MF-027D

A Toshi r&b soul project.
---
Love T.K.O.
E.P.
(*) 1992 Major Force 20MF-042D
---
Love T.K.O. (Tosh and Kudo's Organization)
Head Turner
1993 Major Force 26MF048D

With Howie B. I didn't find this very interesting. Various female vocalists. Neither accomplished enough, nor over the top, nor cynical enough to get my attention.
Headhunter
(*)1994 Mo' Wax (UK) MWMFM CD 001

Ron Kane tells me this is the same contents as the Japanese release
---
LOVE T.K.O.
FURUHATA NINZABURO (ORIGINAL SOUNDTRACK REMIX)
(*)PCCY-1025
no info
---
compilation
Fish Smell Like Cat
(@)1997 UK cd: Pussyfoot CDLP005

this is retro/exotica/ambient with Nakanishi, Water Melon and a number of mostly Japanese bands. loads of fun. Includes one of the first appearances of the Fantastic Plastic Machine. Also early appearances of Ahh! Folly Jet (formerly of A.D.S.) and Chari Chari. Except for the openner, most of this seems fairly exclusive . Though Howard Greenberg recognizes much of this material from a Japanese compilation turn the knob
One of the best compilations out there
1. Moonshaker - Water Melon
2. Albatross - Water Melon
3. Urin - Chari Chari
4. Sea Breeze #C - Chari Chari
5. Round & Round (+Medley Sound Sculpture no. 2)- Typhoon Tosh
6. She Was Beautiful - Ahh! Folly Jet
7. Snakes and Ladders (+Sound Sculpture no.1) - Typhoon Tosh
8. Bugis Folktales - Chari Chari
9. Mr Salesman (I think this is the EP mix, different than the album) - Fantastic Plastic Machine
10. Mahalo Hotel- Arrow Tour
11. The Sound is... - Mad Vibes and Kensuke Shiina
12. Ring of Fire - Kensuke Shiina
13. Bamboo Love Shack - Water Melon
14. Utaki - Chari Chari
---
compilation
Pussy Galore
1997 UK cd: Pussyfoot CDLP007

James Bond meets Acid Jazz. Doesn't quite cut it. They don't do actual James Bond covers, so it's kind of an ersatz excercise. The Achilles heel I feel is the composition level and musicmanship of John Barry in the 1960s was so high that this inspired by material just doesn't hold a candle (vodka martini shaken, not stirred?) to it, though I guess it now holds up better as each new Bond movie comes out with increasingly mundane music.

bands are: Spacer, Dobie, Natural 7, Chari Chari, Sie, Daddy Long Legs, Nakanishi & Bernstein, Kensuke Shiina, Dr. Zaius, Minatone, Naked Funk, Headrillaz, Love T.K.O., Typhoon Tosh
---
compilation
Suck It and See
1998 Pussyfoot (UK) 2cd: CDLP069

The theme to this double CD or LP seems to be porn. It was U.S. released also. You have to wade through a lot of it to get at any good parts. ahem

bands are: Love TKO, Kensuke Shiina, Daddylonglegs, Roudoudou, Tiff McGinnis + 3 Wheels Out, Fantastic Plastic Machine, Sielab, Nick Faber, Lego, Sie, Deadly Avenger, Hyper Crad, Tim 'Love' Lee, Howie B., DJ Miku, Chari Chari, Spacer, Inevidence, Naked Funk
---
Various Artists

Heart Of Stone - A Tribute To Brian Jones

(*) 02.08.20 Teichiku TECN-25823

Ron Kane writes:

With 5 cuts from The Mugen Byblos = Toshio Nakanishi and Kenji "Jammer" Suzuki; Toshi is singing again! Factory Girl, Gomper, 2,000 Light Years From Home, Child Of The Moon and Memo From Turner! According to the obi, looks like the same team did a Hendrix Tribute CD, but I cannot confirm any Toshi involvement.
---
---
Skylab
Skylab is Toshi, Kudo, Howie B, Mat Ducasse.
---
OH!SKYLAB
1995 L'Attitude (U.K.) cd ep: LATCD 21, 856 951-2

Debbie Sanders does the vocals, (IMHO Chica's talents are sadly missing as of the 90s). 5 tracks. Includes re-mixes by Sabres of Paradise and Nobukazu Takemura.
---
Skylab#1
1995 Astralwerks (US) cd, japan cd: PHCR-1322 with a bonus track

Full album. Mid 90s UK style-ambience. Interesting stuff, though not Japanese sounding.

The track Exotika exists as a 12"
---
Skylab
The Trip
1996 EYE Q (uk) 12" EYEUK011
Trip #1 (edit) [3.24]
Trip #2 [7.09]
Trip #3 [6.42]
Trip #1 andmoreagain [7.18]



also on CD with different mixes. No Howie B starting with this one
---
Skylab
Judas!
97? Eye Q (UK) cd: eyeUK019cd, lp: eyeUK019

3 song EP. Sort of anti-Xmas as far as Ican tell. Noisy, lumps of coal.
---
Skylab
Magenta
1998 Eye Q (UK) cd: EYEUK028cd

Another 3 track hodgepodge of club type sounds. Listenable but not memorable at all

I heard mention of a Skylab #2 band which are the other guys besides Toshi and Kudo.
---
Masahide Sakuma
former member of the Plastics and a producer most notably of the hugely successful Judy and Mary
---
Masahide Sakuma
Lisa
1984 Victor lp: JMI-28003, cass: JMC-10003, cd: VDP-80, Pan East (UK) cd: NEW CD 102

Seigèn Ono produced . Quirky Satie like electronics. Quite a jem. Includes the Third Man Theme. A real find. Part of the Music Interior series.

Sakuma produced 10 Palettes and Retinae for Dip In The Pool and P-MODEL's auspicious debut In A Model Room and a number of other artists albums since. Some of his 90s concept band are NiNa and the d.e.p. (see below)


other albums- (info from Buggle)
(*) Sozo No Niwa De (1991)
(*) Replay (1991)
(*) Sane Dream (1992)
---
NiNa
NiNa
99.11.1 SONY SRCL4653
A new pretty much one time only band with Kate Pierson (vo) from the B52s, Yuki (vo) from Judy and Mary , Masahide Sakuma (g, kbd,b, programming) , Takemi Shima (conceptual and visual agent provocateur), Mick Karn (ex-Japan bassist), Steven Wolf (NY session drummer); produced by Masahide Sakuma and Tom Durack.
Some fine duet singing and energetic performances. It starts kind of Plastics/B52s reminicent but doesn't stay that way, probably to its detriment. I thought the openning track was pretty catchy but as a whole I expected more and was dissappointed. Actually the album is even a bit long.
There are at least 2 singles. They seemed to contain instrumental mixes besides songs on this album.
Take 27
Super Hero
Hairspray
Aurora Tour
In The Park
Rest in Peace
Hashi Yasume
Route 246
Happy Tomorrow
Old Delhi
I Remember You
Film
When I Ask You
kitanaka masakazu reminded me I forgot to mention this release! :-)
---
D.E.P.
Chikyuteki Byoki? - We are the d.e.p-
2001
Sakuma had a new act called D.E.P. with Vivian Hsu as lead and some familiar names backing-- Masami Tsuchiya, Goto Yashiki, Mick Karn. This seems to be, like NiNa, a one album project. The name stands for Doggy Eels Project.
One thing I noticed is back around 1999 or so Taiwanese singer/actress/model Vivian Hsu found her way into an existing Sony label J-Pop called Black Biscuits and had a #1 hit only after her joining that band. I don't know the details on D.E.P. but I'd think someone was thinking lightning might strike twice. I also noticed just from the album cover and publicity maybe Vivian Hsu wanted to play up her musicality and play down her being one of the most beautiful woman in all asia - judging from what little publicity I've seen from this project (for instance her face is cropped out of the back photo). I had heard second hand that the music was dissapointing and I know it wasn't a big chart hit but upon finally hearing it I thought it was quite good listening and shows a lot of talent rather than being prefabricated pop. I guess I came to this one expecting something somewhat lame and it turned out quite good (and I must give props to Vivian Hsu's music abilities) and NiNa was the opposite.
---
Hajime Tachibana
former member of the Plastics. He's always had a professional foot in the graphic design world so years will go by with no music from him and somtimes he'll release something sort of confounding, other times brilliant.
All the YEN label material including rare singles were reissued on a pair of massive and now out of print YEN BOX boxed sets
---
Hajime Tachibana
H
1982 .5.21 lp: YRL-28002, Alfa cd: ALCA-7, ALCA-5074, ALCA-9131

First solo album. Produced by Yukihiro Takahashi who writes a track. Hosono and Takahashi play on a bunch of cuts. Sakamoto shows up on 2 and composes the music on them (without HH or YT). Ueno is also around and writes a track. Lots of sax. Tachibana plays a sculpture he built and is featured on the cover. More avant and jazzy than his later albums.
H / ALPS
(*) 1982 promo 7" YEN-104
AFAIK promo but not different
---
Hajime Tachibana
Hm
1983.4.23 Alfa/Yen lp: YRL-28007, cd: ALCA-8, ALCA-5084, ALCA-9132 , Ralph (US) lp: HT-8457,

Takahashi produced. A top notch album that is mostly sax quartet and rhythm. Sort of big band meets Philip Glass music. A very unusual technopop sound. An arrangement of RS's Arrangement. Unlike the other YT produced albums, YT does not usually do the drums, which are more big-band like this time. The last track is a cover from an Isao Tomita soundtrack theme.
Sex Symbol Strikes Back / AB1013
(@) 83 .5.28 alfa 7" YLR-705
AFAIK not different
---
Hajime Tachibana
Mr. Techie & Miss Kipple
1984.11.28 Alfa/Yen lp:: YRL-28020 cd: ALCA-9, ALCA-9133

Takahashi produced with Fuji and Iio. Guest Ueno. Very quirky, as usual Plenty of samples this time. Includes everything from hard technopop to disturbing slow motion gospel.
Replicant J.B. Remix Version
1985 .2.25 Alfa 12" YLR-12003, Pick Up (Holland) 12":TPU 0022

J.B. as in James Brown samples. Edited Remix by Holgar Hiller & Techies (Tachibana, Fuji, Iio) The other two tracks were released prior on albums. Nothing special.

Two mixes are on Yen Box Vol.1 Bonus Disc

TRA Version Type B (originally from a magazine cassette) and Remix Version and an edit version on YEN Box vol2
---
Theme from Barricade / Life in Barricade
(@) 1984 YEN promo 12" JL-1

The theme is a different version from the album. B is a non-album track. available on YEN BOX 1 & 2
---
Hajime Tachibana
Nice To Meet You, Sorry To Part (Best of)
1985.12.21 Alfa/YEN cd:: 32XA-49, ALCA-9130

As usual, when an Alfa artist departs, one or several "best of" albums come out, even if they only did a couple albums. I think they have another best of album out also.
---
Hajime Tachibana
Taiyo-Sun
1985 School/Midi lp: MIL-1006, cass: MIT-1006, cd: 35MD-1006, FLCF-3674

A couple Mark Mothersbaugh tunes. Very fast tempo and sampled brass all over the place. Real interesting but the original instrumentals wear you out after a while. 2 songs, both good, the other 7 are instrumentals.
---
Hajime Tachibana
Beauty & Modern Things
1986 Midi 12": MIS-504

One side of this 12" is an engraved artwork by Anime legend Osamu Tezuka! In other words, an engraving is on one side no record grooves. Different versions of the tracks Beauty and then Modern things. The latter is acoustic on this release. Both are excellent.
Hajime Tachibana
Happy
1986 Midi 12": MIS-506

Includes a live version of The Girl from Ipanema. Similar concept, different versions but this time on both sides of the vinyl :-)
Hajime Tachibana
Beauty & Modern Things + Happy
(@) cd: MID-1504

This is the above 2 single-only releases combined on one CD
---
Hajime Tachibana
Beauty & Happy
1987 MIDI lp: MIL-1027, cd: 35MD-1027 , MDC7-1027

Not to be confused! This is a full album. I almost thought this was a best of compilation. It is not. Several co-compositions with Mothersbaugh. Akiko Yano on 1 cut. The material is not as good as on prior albums. Less focus, the melodies are not up to previous levels.
---
Hajime Tachibana
Bambi
1991 Eastworld/Toshiba TOCT-6269 (exists as a promo LP)

Produced with Towa Tei. Indian pop music and a theme called Bambi run throughout. . Possibly out of print. Loads of fun. His cover version of Hugo Montenegro's Moog Power appears on the recent compilation Sushi 3003. Hideki Matsutake sequences on a track. While not illustrated on the album, elsewhere Tachibana did many illustrations of himself as an electric guitar playing half man half Bambi centaur around this time. I'd suspect legal issues with Disney prevented the album appearance of the image. A follow up track of this concept appears on Tei's Future Listening
---
Hajime Tachibana
Hajime Tachibana in the 90's
The Mark Gamble Remix
(*)1992 cd: Alfa/Spin ALCA-319
This was part of a remix series of mini albums where Alfa sent medleys of all their still popular acts out to mostly U.K. remixers and released a short album of each with no participation we know of from the original artist. According to Ron Kane this one is the most rare. I for one have never seen it. Perhaps it was withdrawn or pressed in lower numbers?
---
During his hiatus from recording a bunch of indie acts made and released (@) Sun Sun Sun... Hajime Tachibana Tribute Album. (1995) - Acts participating (that I've heard of) are Yoshihide Otomo and B-2 DEP'T. I caught it in shops back then.
---
Hajime Tachibana
Low Power
(*) 1997 For Life cd FLCF-3674, limited 10" vinyl also

For his first solo recording in years Tachibana baffles and confuses with a series of simple electric piano solos of his compositions played by Tatsuro Kondo. No other instrumentation.
---
Hajime Tachibana &
Low Powers
97.10.21 For Life cd: FLCF-3701, lp (limited): FLJF-9520

Another frusterating item. Taken on it's own it's quite listenable, but it's not exactly what Tachibana fans are craving for. This time Tachibana puts together a back to basics rock band, Low Powers, made up of four women, including a 14 year old lead vocalist. If he were doing some sort of concept with not quite pro musicians, then it's odd that professional level musician Yumiko Ohno (of Buffalo Daughter, Astro Age Steel Orchestra and ex-Havana Exotica) is a Low Power while the others might be amateurs (I don't know who the others are). Tachibana writes most of the tunes. Some small appearances by Tachibana on some songs. Mark Mothersbaugh's song Goo Goo Itch is performed.

thanks to Terry green
---
Since the last Low Powers he did a cover of I Am Plastic for the Plastics Children tribute album with a no longer female Low Powers lineup, guests on guitar the Spoozys album Astro 99 and guests on sax on a Buffalo Daughter 7" single Sax, Drugs and Rock & Roll (only available as a U.S. single)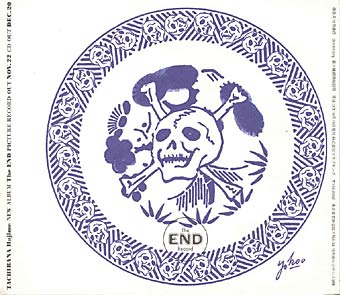 This is an ad for Hajime Tachibana's "The End" from Ron Kane's collection. It appears to be posponed and eventually released in July 2002 as a Tower Records Bounce release. It seems to be a CD with multimedia screensavers and a limited edition LP. Yokoo did the illustration. suGar from Buffalo Daughter appears on the first track playing guitar but the bulk of the album is mobile phone ring tone music. Very minimal.
jim adds:
this one is totally bizarre...i got the vinyl... basically sounds like mobile phone ring tones
the cover is a reference to the tadanori yokoo/ichiyanagi double album from '71 "music from the operas of tadanori yokoo" which was on "the end" label.
it is completely confounding.
---
---
BACK TO MAIN MENU
---
Copyright Notice! Compilation, design, and layout of this web page is copyright 2000 Nicholas D. Kent. All rights are reserved by its individual trademark/copyright holders. This web page is a product of fan appreciation and is not intended to infringe upon properties held by its rightful owners. Any part of this web site may be duplicated and distributed to other networks and BBSs UNMODIFIED, with all ownership and copyright information intact. No portion of this web page (including but not limited to documents, images, and sound clips) may be sold in any way and is expressly forbidden. (Thanks to Kyong Il Lee for writing these lines.)