Cibo Matto

compiled by Nicholas D. Kent
email: ndkent "at" optonline.net

Last updated 03.8.1

Yuka Honda (keys) and Miho Hatori (vocals) are based in NYC. The band's name means 'mad food' in Italian (info:
Emanuele Rodolà). But I've heard they weren't totally sure on the nuance in "Matto"-- thinking it meant "Crazy" and at one point being told it they translated as "Food Sickness". The band expanded with their second album to include Sean Lennon (since departed) and Timo Ellis on bass and drums respectively. I understand the band called it quits at the end of 2001.
miho can't help but wear a devil suit to play such an evil instrument
(*) means I don't own this album and haven't listened to it.
---
Cibo Matto

1995 El Diablo (USA) no # also out in Japan on CD

This is the 5 song CD EP which includes the material from their shorter two song 7" (at the right). I think this was their demo tape. Food lyrics, urban beats, Retro-Italian and Brazilian samples. Includes a cover of Soundgarden's Black Hole Sun as sort of French style opera which is quite different stylewise than Miho's vocals elsewhere.

The initial production on this is probably more unique though rougher than on subsequent releases. Viva La Woman followed with remakes of the major tracks heard here but smoothed the sound out, the latter was very impressive and certainly enjoyable production but lacked the grungy edge of these recordings.
---
Viva La Woman

1996 Warner Bros (USA) cd: 9 45989-2, Peoples JPR-6, BNCY-3

Fantastic mix of offbeat retro samples and up-to-date beats. 3 of the EP tracks are redone. In the same ball park as post-rap Beastie Boys or Soul Coughing. Very smooth and recomended.
3 extra tracks on the Japanese version (info from david mckenzie)

Jive
Sugar Water Remix
Aguas de Marco

Jive is 18 seconds long.

Know Your Chicken

1996 Blanco y Negro (Germany) W0356CD 9362-43724-2

Know Your Chicken (edit)
Know Your Chicken (Alec Empire Remix)
Know Your Chicken (Extra Crispy Version)

The Alec Empire Remix is a murky echoey dub version. Extra Crispy Version is from the earlier self titled mini album.
---
Butter 08

Butter 08

1996 Grand Royal (US) cd: GR 029, (Japan) TOCP-8939

not really a synth record at all but the band Butter 08 contains both members of Cibo Matto. It's entertaining funk. The Japanese version (*) has 2 bonus mixes
---
Super Relax

1997 Warner (US) cd, lp:9 46478-1, japan cd: People's BNCY-31

Not their second album but a sort of EP to fill the wait. This contains the 2 japan-only tracks from the firstt album, and some remixes and other spare tracks. Future official member Sean Lennon is on some tracks. Spoon is an earlier different version. It seems out of print.

The Japanese version (*) has extra tracks.

1. Sugar Water
2. Sugar Water (Mike D./Russell Simmins/Mario Caldato Jr. Remix)
3. Spoon
4. BBQ
5. Aguas de Marco
6. Sing This All Together
7. Sugar Water (Acoustic)
8. Crumbs
9. Sugar Water (Coldcut Remix)
---
STEREO TYPE A

1999 Warner (US) cd: 9 47345-2 , Japan cd:WPCR-10332

Second album Sean Lennon and Timo Ellis join and give the album a much more live feel. Some very clever stuff but the band sound makes the band sound a little less interesting to me. They are doing a soul sort of thing but still have many earlier sounds like rap and hiphop. They attempt hard rock too. I don't know, maybe nothing unexpected on it works out. Still some very memorable songs and a good listen.
(*)The Japanese release of Stereo Type A has some additional material. I think its Everybody Loves the Sunshine
Spoon

(*) 99.6.9 Warner cd5: WPCR-10395 (Japan)

Japanese single with remixes.

Working for Vacation

(*) 99.9.15 Warner cd5: WPCR-10484 (Japan)

Japanese single with remixes.

Sampler

1999 Warner (USA) promo cd: PRO-CD-9766

Sci Fi Wasabi (Radio Version)
Spoon (John McEntire Remix)
Everybody Loves the Sunshine
Moonchild (edit)
---
Yuka Honda was the producer and main collaborator on the Sean Lennon album Into the Sun.

Some additional remixes were available on the Japanese only release Half Horse Half Musician. Includes an excellent cover version by Walter Sear (who's studio they recorded at). Sear was one of the first to use a Modular Moog Synthesizer comercially and decades earlier he recorded an album of Beatles covers recorded on the Moog.
---
a 1998 cover song Fushigi no Merumo is on Atom Kids tribute CD. Its an early '70s anime TV show theme called "Amazing Melmo" that never was played outside Japan. The show's creator is the late Osamu Tezuka who is getting a musical tribute on this CD. Very funky. Sean shows up solo too for his own track (the Astroboy theme in english). Yuka also remixes on Atom Kids Remix (*) a separate mini album at a full price and the Cibo Matto track gets remixed on it by someone else on it too..
Yuka and Sean produce a song for Tomoe Shinohara on her '99 album Dream & Machine (I think its called Last Teen the rap on it goes "Hurry up, times up, gotto make your mind up" (Warner/Dream Machine HDCA-10002) the whole album ties in with her 20th birthday which is the big "you're an adult now" celebration in Japan.
both these tracks are similar in that they are in different arrangement style than the full albums
---
| | |
| --- | --- |
| We Love Our Lawyers is a Cibo Matto contribution to a 2000 compilation At Home with The Groovebox (Grand Royal [U.S.] GR068) which was an album where each act made a new track with a Groovebox. Its part of a line of a current line of Roland "groove approved™" music making devices, specifically the MC-505 in this case. (see pic at the top of this page) What we have here is some kind of cross between a good concept album and a product demo at a full CD price. The Groovebox itself is fairly contreversal. While it no doubt provides a lot of fun for many owners a lot of synth fans felt Roland was cashing in on their heritage of classic analog synth gear 15+ years ago by naming a lot of new products after their old synths and promoting their ability to simulate their now classic sounds. Most fans of the old gear think Roland did a lackluster job and only managed to come up with poor imatations and lots of limitations. Producer Phil Spector did an infamous B side single about his lawyer when he was pressed for a new song in a hurry. (At the time of this album Spector had not yet been accused) | |
a new song stereotype c was done with Buffalo Daughter for the japanese release of bd's 2001 album i (not on the U.S. release)
---
They appear to have broken up at the end of 2001.
Yuka does a sort of avant-jazzy thing in preformance, occasionally with Miho as a guest. Two solo albums:

memories are my only witness

EUCADEMIX

a mix of styles

She's in a new Japanese performance group panikaraqs including Tomoe Shinohara, Steve Eto and chikage (dance).

Yoshimi and Yuka

Flowers With No Color

2003 Ipecac (US) IPC-34

A trippy mostly instrumental album recorded with yoshimi P-we (Boredoms, 00100). Multinstrumental pieces, some in the field which probably used a technique of jams and then overdubs. Very pleasant and colorful though not very melodically memorable to me
Miho is part of a bossa nova duet Smokey and Miho.

and has a solo album currently only out in Japan.

Hearing her solo dong pop outside of Smokey and Miho is interersting in that Yuka must have brought most of the jazzy and urban sounds to Cibo Matto. Miho is more about melody and songs as one could guess. She sings solo much more than almost rapping like she did in CM. Both are into bossa nova. Miho has some Okinawa sounds not hinted at with Cibo Matto.
---
---
---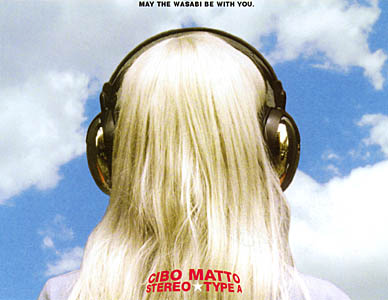 Cousin It ?
---
BACK TO MAIN MENU
---
Copyright Notice! Compilation, design, and layout of this web page is copyright 2001 Nicholas D. Kent. All rights are reserved by its individual trademark/copyright holders. This web page is a product of fan appreciation and is not intended to infringe upon properties held by its rightful owners. Any part of this web site may be duplicated and distributed to other networks and BBSs UNMODIFIED, with all ownership and copyright information intact. No portion of this web page (including but not limited to documents, images, and sound clips) may be sold in any way and is expressly forbidden. (Thanks to Kyong Il Lee for writing these lines.)