Buffalo Daughter
compiled by Nicholas D. Kent
email: ndkent "at" optonline.net
Last updated 02.12.1
(*) means I don't own a copy.
buffalo daughter myspace page
---
Buffalo Daughter are suGar yoshinaga (guitar, 303, vocals), yumiko ohno (minimoog, bass, vocals) and moOog yamamoto (turntables +voices. he spins mostly old moog synthesizer records). Yumiko and Sugar were previously half the band Havana Exotica formed a band with DJ and graphic designer by day Moog formed Buffalo Daughter to explore some, at least in terms of JPOP, out there musical ideas. They've also produced for other artists, most notably Takako Minakawa who broke out in a new direction with the album they worked on. The Beastie Boys signed them for their U.S. label Grand Royal making them one of the very rare japanese acts signed directly overseas (unconnectedly it appears Isao Tomita's classical synth albums were also done under contract to an American major label). Unfortunately Grand Royal folded some years ago which might have added to the long postponement of their album i. Since then they have signed to Virgin Records founder Richard Branson's label V2. The bad news is V2 I don't belive has a releasing setup in the U.S. so their albums and subsequent live shows have bypassed the U.S..
It's worth noting for new collectors that their Grand Royal releases are out of print outside of Japan. However they were released in sizable numbers so certainly the major albums are quite findable and affordable on the used market.
Their style seems a very quirky take on many styles of American music combined with 70s Krautrock electronics and up and coming electronica elements, taken in a mundane context, just that- trendy riffing, but in the context of the other stuff not usually found along side it, quite original and creative

---
Shaggy Head Dressers

1994 Cardinal Records BDCAR-CS0002

MESSAGE FROM BUFFALO
Dr. Mooooog
COLD SUMMER
HEALTH OR DIE
CALIFORNIA BLUES
DAISY

First album. Drummer Chica Ogawa is the 4th member. Tracks from this one (aside from the first intro track) and the next wound up as part of their first U.S. release, Captain Vapor Athletes. Haven't had the chance to listen and compare. Out of print.
---
Amoebae Sound System

1995 Cardinal Records BDCAR-CS0004

'57
LI303VE-DU303B

Two numbers, the later of which is a long dubby electric number and appears on the following US debut in a different version. The first, available only here is like a folky acoustic western song. Out of print, most copies have a greenish CD booklet in color though I've seen a shiny silver cover with black and a 3rd bronze cover too. I'd suspect one is the initial packaging, one is the regular packaging and the third is a reissue after their Grand Royal signing though I've not verified this. LI303VE-DU303B is about a half an hour long. OUT OF PRINT
---
Captain Vapor Athletes

1996 Grand Royal (USA) cd: GR030, Japan TOCT-50433/4

Counter Parrot
Cold Summer
Vampeeee
Silver Turkey
California Blues
Dr. Mooooog
Brush Your Teeth
Kelly
Big Wednesday
Baby Amoebae Goes South
LI303VE
Vapour Action Forever

with lots of bloop and bleep electronics. When they are doing songs they're great. Some of their material is jamming/noodling which isn't exceptional if you know your 1970s electronics. Great catch up album to get an idea of their original sound. I think Japanese CD copies have a bonus disc of Socks, Drugs and Rock'n Roll remix material.

U.S. version

Japan version
The Legend of the Yellow Buffalo
1996 Grand Royal (USA) 7": GR027
Contains 2 songs Cold Summer (from the above) and Daisy (seems to be from Shaggy Head Dressers but non-album in the US) . Clear yellow vinyl.


Socks, Drugs and Rock'n Roll

1997 Grand Royal cd: GR043

Remix album

Dr. Moog "The Destroyer Remix" by Alec Empire
Daisy Pushed Up by Stock, Hausen and Walkman
Big Wednesday by Money Mark
Daisy "Talking Bird" by 25 ton
Silver Turkey "Raise Your Chicken Mix" by Sugar

for whatever reason, some of the remixes sound much less jam oriented than the originals.
---
Buffalo Daughter / Delaware
Jungle Park Original Sound Track
1997 Digitalogue SSCX-10100
This is an out of print and seldom seen computer game soundtrack where each band plays new though often fairly simple instumentals on alternate tracks. There is a cartoon monkey stick figure on the cover so I assume this is a fairly minimalist game.
---
New Rock

1997 Grand Royal cd: (released 1998 in the US) GR052

Cool material. Contains some superb solos. The noodling/jamming content is much lower than the previous one. Very reccomended. Earlier U.S. and Japanese versions had an acetate cover rather than regular paper. The Japanese version has a bonus CD3 and an inner booklet designed by Delaware.

Japan-only bonus CD3:

Daisy
Jellyfish Blues (non album version probably also on the Sax Drugs U.S. 7")

U.S. version

Japan version
Great Five Lakes
1998 Grand Royal GR056 cd5: GR056 also 12"

a single with
Great Five Lakes cornelius remix
Great Five Lakes kut masta kurt remix
Great Five Lakes radio edit
r&b(rhythm & basement ) elite force remix
r&b(rhythm & basement ) album version
this CD5 single was released first in England (98) then in '99 in the US (no differences). The Cornelius remix also showed up on CM by Cornelius, a US and Japanese released album of his own remixes of other artists.
---
WXBD

THE WICKED FREQUENCY FROM LA, SAN FRANCISCO, BRUSSELS, LONDON AND TOKYO

3.25.1999 Toshiba EMI TOCP-61014, also a U.S. Version on Grand Royal

Early Japanese copies are said to have more deluxe packaging. From their website I gather that there is an extra track compared to the US version. The title I guess is supposed to be like U.S. radio station station I.D. call letters. Remixes and live performances.

U.S. version

J. version
---
Sax, Drugs and Rock'n'roll / Jellyfish Blues
1999 Grand Royal (US) 7" GR083
a live 7" 33 1/3rpmclear pink vinyl single from a 1999 shows in Osaka. Hajime Tachibana does the sax in question and did the single's collage cover artwork. The B side track has no sax but does have a delicate solo by yumiko.
---
neu

(*) 2000.7.27 TOCP-65485 •not released•

Announced but not released this was to have included a bonus CD3. I presume the demise of Grand Royal put it on hold but others have pointed out Sony signed artists Polysics coincidently scheduled an album with that name at that time

i

01.11.21 TOCP-65914 --

2002 release on Emperor Norton (no final Cibo Matto track)

long delayed its finally out. This is a tough one to talk about since its both very creative and not fully working as an album. A big range of styles though several people have commented that it tries too often to be a bit straight and serious. I guess this comment would not have come up if it were suceeding at being serious. Thats the critical part I think. A lot of it seems like 'lets see if we try to do this'. After beautiful track thats 99 and 44/100% pure comes some experiments that don't quite work, a spoken collage that's like a lot of other people's spoken collages and then a try at something heavy or punk (Earth Punk Rockers) that might be fun live but doesn't work out and winds up kind of depressing. Then another kind of interlude then a more optimistic straightforward rocker Volcanic Girl almost saying "we can do this too" and the do. The 6th song, "5 minutes" is the first with the more familiar buffalo elements in it, though maybe in slicker than usual production-- mighty catchy though it unfortunately lasts less than the 5 minutes long, I guess you just can't have 5 minutes of heaven mentioned in the lyrics. "Robot Sings" is a little tricky. It uses manipulated vocals and has nice riffs, the centerpiece is sung robot-like lyrics that are kind of an overused effect today but I guess far less so if and when it was recorded presumably some time back. Whats challenging is its sometimes hard to tell what's ironic and whats sincere, sometimes both? The flower generation style "I" is one of them. "Moog Stone" has some fine groovy keywork. "Mirror Ball" works with a nice simple psychedelic feel with long long airy sounds swirling. "Long Slow Distance" is quite delicate but not long at all. Someone online already commented on the disco nature of this album which confuses me since the 12th track is the first with any outright disco elements(Discoteque Du Paradise), though even this has a latin beat underlying with the disco elements only appearing over it.

The team up with Cibo Matto is on the designated "Japan only track". It has a disco feel too. I guess this has sort of become Cibo Matto's final track, as they've split up at the end of 2001. Still after all that said there is plenty to check out.

U.S. Version

Japan Version
A Long Life Story Of Miss Cro-magnon

02.08.07 Capitol / Toshiba/EMI cd: TOCP 61069

This is sort of the "Japan only" accompanying remix album to i. It opens with an almost 9 minute new song, Son of Altair which has a more typical in a good way bd style. Then a FLOATRIBE re-edit of Discoteque Du Paradise merging with the original version, essentially extending it. Then the original Volcanic Girl followed by what seems to be a cover by DMBQ in a harder more acid rock style with a male vocalist.
---
Pshychics

(@) 2003 V2 CD compatible SACD, also a regular CD UK, EU and AUS/NZ releases

This album is not released in the U.S. yet. I have to hear it more times. Some definite Krautrock influences.

British version

J CD/SACD
---
Euphorica

(*) 06.4.2 V2 sacd: V2CL-10002

haven't heard it yet
---
---
compilation album cover tracks:
1996 - EVOLVE OR DIE (PVCP-901) Sad Days Lonely Nights, lots of the most cutting edge japanese bands doing blues covers.
1998 - MUSIQUE NON STOP Autobahn more info
1999 - PLASTICS CHILDREN WELCOME TO PLASTIC WORLD Cards (this is a 20th anniversary tribute to the Plastics)
2000 - 303 + 606 = ACID (original track) from At Home with the Groovebox

---
Production for others:
1995 Flaming Girl by Saho (out of print) - EP length. sort of blues country western roots rock

1996 Roomic Cube~A Tiny Room Exhibition album by Takako Minekawa

1998 Micro Blue (1 song from the album MEGAPHONE SPEAKS) by Tomoe Shinohara (Ki/oon Sony KSC2-236)
1998 Blue - Another Side Of Megaphone Speaks Tomoe Shinohara (Ki/oon Sony SYUM0076-7) -it took me years to get this vinyl only double 12" despite having had some contact with TS and BD, really cool and has a wicked very different Giorogio Moroder style arrangement of micro BLUE
1999 Tokyo Tawarudo TV (1 song from the album Dream & Machine) by Tomoe Shinohara

(*) 2000 TEION YAKEDO (VICL-60573) by Hal --Yumiko Ohno production
---
Remixes for others (not a complete list)
(*)? XL for Original Love (PCCA-1324)
1997 Crown of Thorns by Miki Nakatani (FLCG-3032) on Vague
(*)1998 Surfers of Romantica by T.S.E.(included on : in on out)
1998 Orly Narita for Kahimi Karie on a K is a K is a K
1999 New Music Machine for Cornelius on FM (USA released)
(*)1999 Lucious Jackson's Ladyfingers Remixes "bd's smoothfinger remix"
(*) 2000 Lucious Jackson's Nervous Breakthrough 2x12" : US [SPRO 7087 6 15107 1] (Promo)

---
for suGar and Yumiko's former band see Havana Exotica
suGar guests on some records (like Miki Nakatani's and Takako Minekawa's) and is a member of metalchicks They released a private release EP and then a proper album in 2005
moOog and his wife mariko are phonic, a graphic design company. He DJs and even played guitar collaborating with Yuka Honda in 2005.
yumiko was a member of Hajime Tachibana's Low Powers and Yann Tomita's Astro Age Steel Orchestra as well as in 2006 backing on new Yann Tomita projects on the side. She does not have any upper case letters in the middle of her name.

---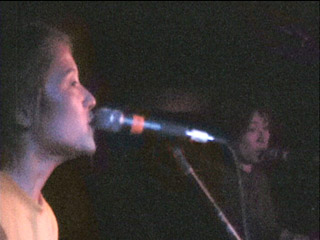 thanks Tokion Magazine for the event!
---
BACK TO MAIN MENU
---
Copyright Notice! Compilation, design, and layout of this web page is copyright 2000 Nicholas D. Kent. All rights are reserved by its individual trademark/copyright holders. This web page is a product of fan appreciation and is not intended to infringe upon properties held by its rightful owners. Any part of this web site may be duplicated and distributed to other networks and BBSs UNMODIFIED, with all ownership and copyright information intact. No portion of this web page (including but not limited to documents, images, and sound clips) may be sold in any way and is expressly forbidden. (Thanks to Kyong Il Lee for writing these lines.)